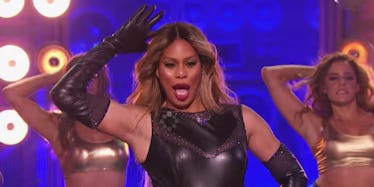 Laverne Cox Slayed As Beyoncé In Her 'Lip Sync Battle' With Samira Wiley
YouTube
Can we all just pretend this "Lip Sync Battle" with Laverne Cox and Samira Wiley is how "Orange Is the New Black" season four actually ended?
Forget all that tragic social commentary stuff: I want to see Poussey rapping to Naughty by Nature and Sophia doing the splits.
Luckily, Chrissy Teigen and LL Cool J delivered me this gift on a silver platter.
Laverne and Samira faced off on this week's episode of "Lip Sync Battle," and both ladies came to slay.
Samira threw it back to 1991 with "O.P.P." by Naughty By Nature, and, well, she freakin' crushed it.
First of all, she looked incredible in her overalls and tank top. I'm very happy for Samira because she recently got engaged to her girlfriend and all, but that's also kind of a bummer, because damn. 
Second of all, she didn't miss a single word or beat. Who knew Poussey had those moves? And Naughty By Nature himself even joined her on stage at the end.
I mean, it was no Beyoncé / Channing Tatum moment, but it was still pretty cool.
Not going to lie, I wasn't really seeing how Laverne Cox could top such a flawless performance.
But I should know by now never to doubt Laverne.
She brought out the big guns with Destiny Child's "Lose My Breath."
Not only was she the spitting image of Beyoncé, Laverne owned that stage with a confidence that would make the Queen Bey proud.
She even brought along her very own drum line from UCLA's marching band to accompany her live performance, reminding us all of Beyoncé's iconic Super Bowl performance this year.
But the most impressive thing was her incredible high kicks and acrobats — culminating in a full-on split for the finale.
Chrissy Teigen's face in that moment pretty much sums up my reaction as well:
So who won?
Honestly, I can't decide.
All I know is now I'm mad there was never a Poussey/Sophia song and dance number in "Orange In the New Black." Jenji Kohan really messed up on that one.
Citations: Watch Laverne Cox Channel Beyoncé In Her Lip Sync Battle With Samira Wiley (Cosmopolitan)