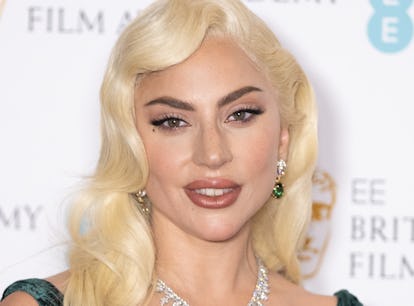 Gaga Praised Taylor For This Vulnerable Miss Americana Moment
Samir Hussein/WireImage/Getty Images
Trigger Warning: This piece contains descriptions and true accounts of eating disorders.
A clip from Taylor Swift's 2020 Netflix documentary, Miss Americana, has resurfaced due to the "Bejeweled" singer's vulnerability about her eating disorder. The video, which a fan account shared on TikTok, is so widespread that even Lady Gaga praised Swift for opening up about something so personal.
"That's really brave everything you said 🖤 wow," Gaga commented under the viral TikTok, which has been viewed over 500,000 times since being uploaded on Jan. 3.
During the scene from the documentary, Swift opened up about how she managed to overcome negative comments about her body and eventually learned to accept herself. "I'm a lot happier with who I am," she said. "I don't care as much if somebody points out that I have gained weight. It's just something that makes my life better."
Swift said getting into that mindset wasn't easy due to her eating disorder, however. "The fact that I'm a size six instead of a size double zero, that wasn't how my body was supposed to be," she remembered thinking years before. "I just didn't really understand that at the time. I don't really think I knew it."
She admitted that became defensive whenever people showed "concern" with her weight. In response, Swift would try and reassure everyone she was fine by saying she would "of course" eat but just exercised a lot, but that was a lie. "I did exercise a lot, but I wasn't eating," Swift said, adding that her eating disorder stemmed from society's beauty standards. "Because if you're thin enough, then you don't have that ass that everybody wants. But if you have enough weight on you to have an ass, then your stomach isn't flat enough. It's all just f*cking impossible."
In a January 2020 interview with Variety, Swift explained her decision to discuss her eating disorder in the film. "I didn't know if I was going to feel comfortable with talking about body image and talking about the stuff I've gone through in terms of how unhealthy that's been for me — my relationship with food and all that over the years," she said. "But the way that Lana [Wilson, the film's director] tells the story, it really makes sense."
Lady Gaga has also previously revealed she's had an eating disorder. According to Forbes, in September 2012, the singer revealed on her Little Monsters website that she's had "bulimia and anorexia" since she was 15. Years later, in a February 2014 interview with Harper's Bazaar, she revealed that her relationship with food had gotten "better," explaining, "I don't have an eating disorder anymore. I'm also better at not letting people take advantage of me."
If you or someone you know has an eating disorder and needs help, call the National Eating Disorders Association helpline at 1-800-931-2237, text 741741, or chat online with a helpline volunteer here.