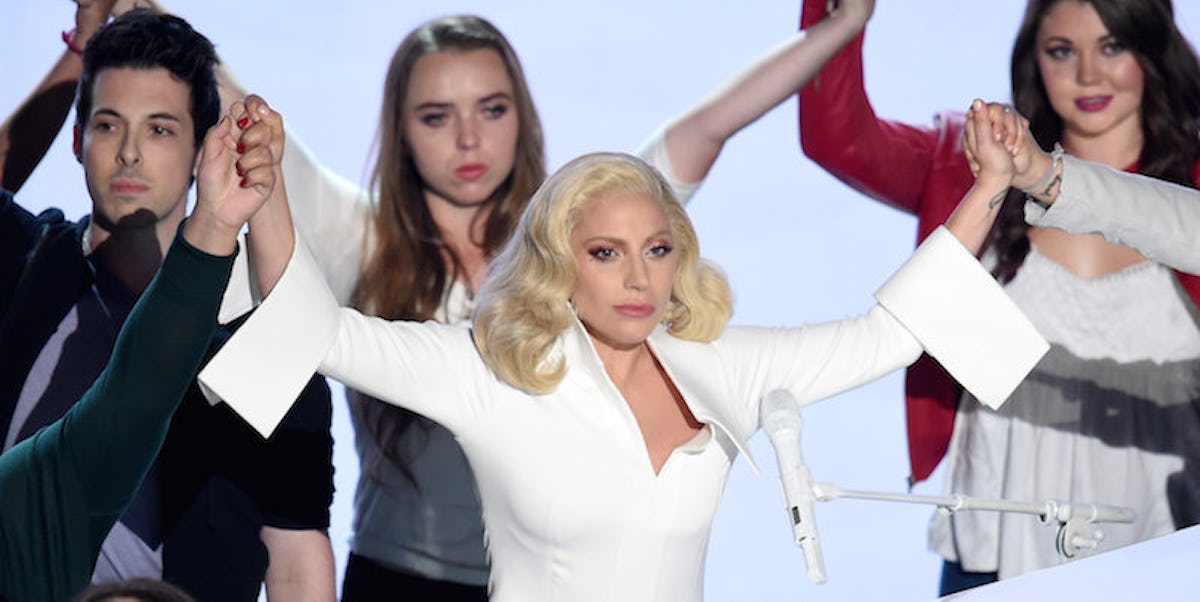 Lady Gaga Talks About Dealing With The Trauma Of Her Sexual Assault
Getty Images
Lady Gaga stunned the world with her empowering performance at the 88th Academy Awards in February.
While singing "Til It Happens To You," she stood among sexual assault survivors who had messages of hope written on their arms in black ink.
The song was written for "The Hunting Ground," a documentary focused around the sexual assaults happening on college campuses.
Gaga, who talked about her own sexual assault before, opened up about her experience and the performance in an interview on "Elvis Duran and the Morning Show."
The singer shared she felt chronic pain ever since her sexual assault 10 years ago.
She said,
It stays in your body, in your tissues, physically in you... I feel physical pain and there's a lot of other people that suffer from chronic pain who have been through a traumatic experience. I actually suffer from chronic pain all the time, and it's from this paralyzing fear that I've experienced for almost 10 years.
She also discussed the emotional impact her Oscar performance had on her.
She shared,
I have people every day look at me like a celebrity, and that day was the first time in 10 years that I was looked at like a human being. I will never forget it because I'm forever changed, because I don't have to hide anymore. I don't have to feel ashamed that it happened. I went through this, but I'm stronger now, and I'm not alone, and I'm not disgusting, and I don't have to feel ashamed, and I'm not the dirt on the bottom of people's shoes because I went thorugh this. I'm still the talented, educated woman that I know myself to be.
Gaga recently got a beautiful tattoo to show support for sexual assault victims. Some survivors who stood on stage with her also got the same tattoo in solidarity.
Thank you, Lady Gaga, for touching us with your music, standing up for survivors and sharing this powerful message with our world.
Citations: INTERVIEW: Lady Gaga Opens Up About Her Own Experience With Sexual Assault (Elvis Duran and the Morning Show), Lady Gaga Opens Up About Suffering From Chronic Pain Since Her Sexual Assault (Elle)