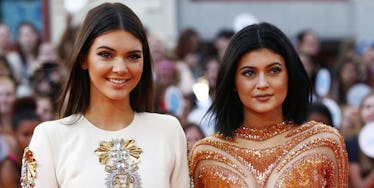 Kylie Jenner Just Snapchatted Older Sis Kendall's Nipple
REUTERS/Mark Blinch
Kylie Jenner might be a multimillionaire, but she's just like any little sister.
While hanging at Coachella with older sis Kendall, Kylie decided to Snapchat said older sister's nipple.
Yep.
Kylie, unbeknownst to Kendall, was filming her supermodel older sister while she was having a conversation. Kylie then proceeded to zoom in on her sister's see-through bralette, putting her perky nips on full display for the world to see.
If it were anyone else, it might be embarrassing, but considering the entire world has already seen Kendall's nips … it's just another day in the life of the super-rich and famous.
Watch the Snap below (NSFW, obvs).
Citations: So, Kylie Jenner Just Exposed Kendall Jenner's Nipple Mid-Conversation (Cosmopolitan)