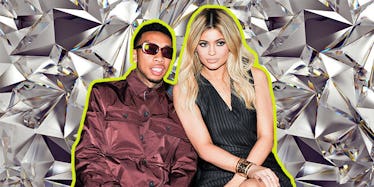 Kylie Jenner And Tyga Are Showing Even More PDA On Snapchat
REX/Shutterstock
Kylie Jenner and Tyga are heating things up on Snapchat with a new video of some serious PDA.
The on-again, off-again couple called it quits in May, but have been spotted together over the last few months on numerous occasions.
Since the breakup, it seems like the 18-year-old reality star and 26-year-old rapper completely rekindled the flame and are even more in love than before.
I mean, if you follow them on social media, you know the PDA is out of control.
Recently, Kylie posted some super sexual Snapchats of her lying on top of Tyga. YEAH, REMEMBER THIS?
Good times!
Tuesday night, Kylie added another video of her getting it on with Tyga, except this time he was kissing her cheeks.
He's really going at 'em.
BUT FOR REAL THOUGH, CAN YOU GUYS GET A ROOM? I'm trying to find makeup tutorials on Kylie's Snapchat, not this video of you swapping saliva.
Before the video, Kylie added a photo someone took of her walking with Tyga.
How romantic. The girl can't seem to get enough of her man.
There have been rumors that the two are secretly married, but I don't know what to believe anymore.
She is rocking a pretty big diamond ring in that pic, but like, she's also wealthy AF. Maybe she bought it for herself?!
All I know is Kylie and Tyga are in love and not afraid to show it.
Cool, well, I'm still dying alone. Who's with me?