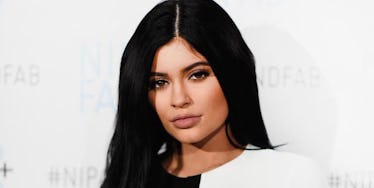 Kylie Jenner Just Threw Some Serious Shade At Brother Rob Kardashian
Getty Images
Emotions are still high in the world of Kardashian.
Sunday, Kylie Jenner posted a photo adding to the tension between the Kardashian-Jenner sisters and their brother, Rob.
Posing with oldest sister Kourtney and Rob's ex, Adrienne Bailon, Kylie captioned the photo with a line that says so much in very few words: "cause we are sistersss." Ooh, burn.
Just a month ago, Rob and Blac Chyna started making headlines for their very PDA-driven romance, which has quickly become what seems like a straight-up monogamous, committed relationship. In little time, the two are reportedly now living together.
It all came as a surprising turn of events, seeing as Kylie Jenner has been dating Blac Chyna's ex and baby daddy, Tyga, for a while now. Not to mention, the already-incestuous group had recent beef with Blac Chyna and bestie Amber Rose over dramatic situations no one really cares about.
It's hard to deny Blac Chyna's positive influence on the youngest Kardashian sibling, though, who has pretty much been labeled a hermit since the onset of his health issues which resulted in significant weight gain years back.
Rob is back on track to getting healthy now, thanks to the influence of Blac, who has been encouraging him to eat better and get back on the workout grind, as told by his uncharacteristically active Instagram.
Still, the Kardashian-Jenners are having a hard time processing it all, minimizing Rob's newfound happiness in favor of their own. No party is keeping hush about the building drama, and Rob shared his feelings on Instagram earlier this week.
We hear you loud and clear, Rob.