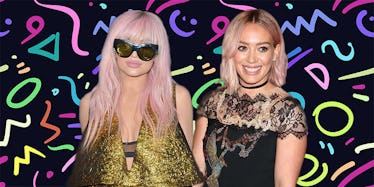 Kylie Jenner And Hilary Duff Both Swear By This One Summer Beauty Tip
REX/Shutterstock
I'm not sure if Kylie Jenner and Hilary Duff have ever had a conversation, but the two have way more in common than we think.
The 18-year-old reality star and 28-year-old singer are both style and beauty icons. I don't know about you, but I pretty much go back and forth between their Instagram pages to find the latest trends.
If I'm being honest, I've tried to follow in the footsteps of Hilary Duff ever since her "Lizzie McGuire" days. And even though Kylie is five years younger than I am, I often find myself attempting to copy her makeup tips, as well.
So when it comes to the summertime, do Kylie and Hil have any tips or tricks on how to maintain flawless skin?
Yup, they sure do. In fact, they have the same one.
Elite Daily sat down with Hilary to talk about her g0-to beauty products for the warm weather.
Hil told us sunscreen is the number one thing you must carry during the summertime. She explained,
I always wear sunscreen. I'm obsessed, everyone should wear it.
She added,
I do like to find ones that have some kind of shimmer to make your skin glow. Having a moisturizer with sunscreen and a glow is a good one. And make sure you keep reapplying it!
Wow, makes sense. I guess we all should make protecting our skin a priority. YOU DON'T WANT WRINKLES, DO YOU?
Kylie Jenner previously opened up about her own beauty secrets to Miss Vogue. In May, she shared the best piece of beauty advice she'd been given, saying,
To always wash my face at night before bed and to be sure to apply sunscreen on my face and back of my hands. Hands are always exposed to the sun so are especially prone to ageing.
Damn, celebrities are really into that UV protection.
Several other celebrities such as Jennifer Aniston and Shay Mitchell have opened up about the benefits of applying sunscreen, too.
On the beauty advice she'd give her younger self, the "Friends" star told Glamour UK,
It comes back to being young and thinking I was invincible — I thought that dewy, tanned skin would just stay beautiful, but you have to protect it. I understand it's not easy, it's hard to keep remembering and reapplying, but it's so worth it.
On top of that, Aniston explained drinking water and maintaining a healthy diet are the keys to a glowing complexion.
As much as I love soaking up that vitamin D, it's important to stay safe this summer. Thanks for the tip, ladies!
Citations: Jennifer Aniston Sunscreen (Us Magazine)