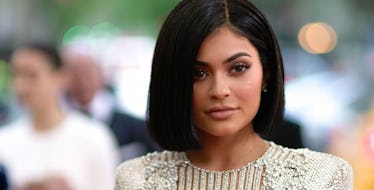 We Finally Know What Kylie Jenner's Newest Butt Tattoo Says
REX/Shutterstock
Man, I love waking up and seeing new pics of Kylie Jenner's butt all over the internet.
I'M KIDDING, I'm kidding. Don't roast me yet.
The 18-year-old reality star is showing off her booty, but that's because she just got a new ass tat.
Shut up, it's basically on her ass.
But according to Kylie's latest Snapchats, it looks like the star is getting inked ON HER BOOTY AGAIN.
So WTF did this girl get on her ass this time? The options are endless.
What if Kylie got Tyga's name tattooed on her? I mean, he already has "Kylie" inked across his arm.
It would be SO CUTE. Right? LOL...Bye.
Well, according to TMZ, Kylie didn't actually get a new tattoo, she just updated the meaning of her old one.
The source says Kylie had tattoo artist Rafael Valdez add the word "before" in front of "sanity." If you're confused, Kylie's new tat means "before sanity."
Hmm, DEEP.
Hopefully she'll post an Instagram of her fresh ink soon and clarify what it all means.
Citations: Kylie Jenner Ass Tattoo (TMZ)