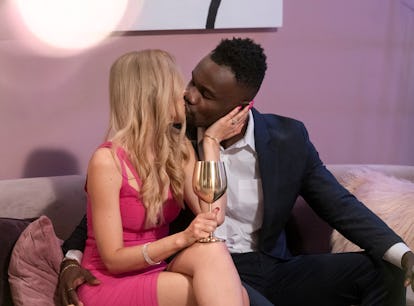 Kwame Responded To Critics Saying He & Chelsea Had "No Chemistry"
But Chelsea has stayed quiet.
Netflix
Spoiler alert: This post contains spoilers up to and throughout Episode 12 of Love Is Blind Season 4. To put it kindly, Chelsea Griffin and Kwame Appiah's relationship was not a fan-favorite. Throughout Season 4 of Love Is Blind, it seemed like the couple was struggling to compromise, and several awkward moments — like when Chelsea fed Kwame a chocolate-covered strawberry despite his protests — had fans convinced their relationship was doomed. So, when Kwame said "I do" at the altar in the season finale, viewers were left shocked and "speechless." It didn't take long for Kwame to speak out about the reaction, though Chelsea has stayed quiet.
On April 14, Kwame shared an Instagram post featuring never-before-seen photos of Chelsea and him. "All of this content was taken during our engagement, when the big cameras weren't on us," he explained. "We got to enjoy life, and communicate, in the ways that feel most natural to us. Just a quick response to anyone saying 'they have no chemistry', or 'they don't even love each other'.. based on what you saw, I don't blame you for thinking that. But actually, we had the MOST fun together falling in love!"
Little reminder: What viewers saw involved Kwame flirting with cast-mate Micah Lussier (after proposing to Chelsea) and complaining about compromising too much when she brought up living in Seattle (where the contestants on the show were based). Oh, and he wasn't sure he could say "yes" to Chelsea without his mother's blessing, which she was not giving. So, yeah... fans didn't see a lot of positive indications.
Still, Kwame seems ready to defend their relationship — and he's not the only one. Although Chelsea has stayed quiet so far (and she didn't like Kwame's post), other Season 4 contestants have chimed in with their support. Brett Brown commented, "Beautiful post Kwame! What is shown on tv is such a boiled down version of all of our relationships for the good and bad. Glad you're showing your relationship on your terms 🙌🏾." Bliss Poureetezadi also responded to Kwame's post, "Team Kwame and Chelsea forever!! We see your beautiful relationship every time we are together. What a beautiful couple!"
Heavily-edited reality TV shows aren't always the most accurate portrayal of real-life relationships — and apparently, Kwame wants to make that crystal clear.