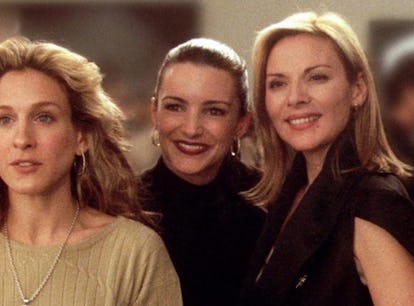 Kristin Davis Wishes She Could "Fix" The Kim Cattrall Situation On AJLT
Samantha is finally coming back, but that doesn't erase the behind-the-scenes drama.
HBO
Samantha Jones' comeback has everyone talking. Sex and the City fans had been holding out hope for Kim Cattrall to reprise her beloved character, and now it's finally happening in the second season of And Just Like That. But her cameo doesn't mean that the bad blood between Cattrall and the rest of the SATC cast has cooled. Ahead of the new season, Kristin Davis revealed that the tension is still there, and she doesn't think it will be resolved anytime soon.
Cattrall's return was revealed a few weeks ahead of the And Just Like That Season 2 premiere on June 22. Per Variety's report, she'll only appear as Samantha in one scene to have a phone conversation with Carrie, and the actor did not interact with any of her former co-stars while filming the appearance. The return came as a surprise to SATC fans, since Cattrall has been very vocal about not wanting to play Samantha again. Her decision led to a very public feud between Cattrall and Sarah Jessica Parker, when Cattrall suggested that Parker had unfairly blamed her for roadblocking a third Sex and the City movie in 2017.
When the And Just Like That sequel series began in 2021, Cattrall's Samantha was noticeably absent, and Parker admitted she wouldn't be comfortable with Cattrall returning for the show given their drama. Although Cattrall is finally making her return in AJLT Season 2, it seems clear from how her isolated cameo was filmed that there's still some behind-the-scenes friction. Kristin Davis confirmed that in a June 9 interview with The Telegraph, admitted that she wants to "fix" the situation, but doesn't think she can.
"You have to respect people's wishes," Davis said when asked about the turmoil between Cattrall and the rest of the SATC cast. "I'm not gonna waste energy on it. I can't change anybody. I do understand fans' feelings — that they're upset… I wish I could fix it, but I can't. It's not in my power."
It doesn't sound like Samantha is going to be sipping cosmos with the girls again anytime soon, but at least her cameo in And Just Like That Season 2 will give fans a quick hit of Samantha-isms after so many years without her wise words. The new season premieres June 22 on Max.