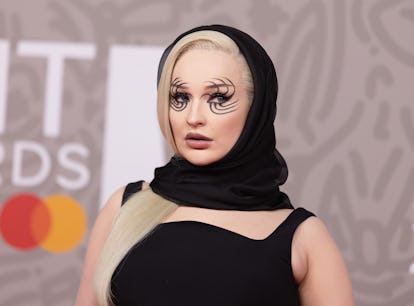 The Tracklist For Kim Petras' New Album Is A NSFW Dream
She's having a XXX rated medieval girl summer.
Jo Hale/Redferns/Getty Images
Kim Petras is entering a new music era — and time period. Luckily, she has a gothic wardrobe of shiny armor to prove it. After years of delays, the pop darling announced her debut album, Feed the Beast, will drop on June 23. Petras also shared the tracklist for the forthcoming project, and nearly each entry drips with a NSFW flare that would make her previous album, Slut Pop, blush. Well, almost.
On May 22, Petras shared the album's tracklist and official cover art on Twitter. The list, which is engraved in gothic font, features 15 tracks, including her recent singles "Brrr" and "Alone featuring Nicki Minaj.
To many fans, the backdrop of the tracklist might look familiar. A week earlier, on May 16, Petras used that same photo (a medieval-inspired sword resting against jagged rocks) to announce the album's June arrival on Twitter. However, this time, the picture is stained in a black-and-white effect, which makes it feel a bit more ominous.
This tracklist reveal comes after Petras teased this upcoming era's aesthetic. Ahead of the album announcement, Petras shared a cryptic moodboard of medieval accessories on Instagram. The monochromatic set included shots of a metal shield, a knight's helmet, and three different swords. Clearly, she's looking to slay in more ways than one.
Petras hasn't offered any new details about these dark visuals, but that's not stopping fans from fawning over this new era. This album's aesthetic has a darker edge from her 2022 EP Slut Pop, which saw Petras belting sultry club bangers while living out her Y2K-inspired dreams.
As for Feed The Beast's visual edge, it boasts an underlying glare of fantasy. The cover art looks as though viewers caught Petras resting on a barren beach while in the middle of a conquest. She probably indulged in a sword fight or two; however, she's not only slaying mythical creatures throughout her journey. She's casually slaying her vocals and delivering them to listeners on a silver platter.
Petras' debut album has been in the works for a while. She was originally slated to release the record last year under the title, Problématique. However, the singer told Billboard in 2022 that the project had been axed due to several tracks leaking online.
"I know for the fans, it was very hard to see a whole album go away — for me, too. That original album got me through the pandemic," she said at the time. "But I also realized in that process that I was just doing what I always do; I was writing escapist pop songs about wanting to get away from everything. It was, once again, 'The world is ending, let's party.' I love that, but I'm at a different place now."
Here's everything you need to know about Petras' forthcoming album.
Feed The Beast's Release Date
Petras' upcoming debut album will release on June 23, 2023.
Feed The Beast's Tracklist
The 15-track roster for Feed The Beast includes a sultry array of titles. This direction isn't new for Petras, as she dabbled with risque titles on Slut Pop — think "Throat Goat" and "They Wanna F**k."
See the full tracklist below:
Feed the Beast
Alone (Ft. Nicki Minaj)
King Of Hearts
Thousand Pieces
Uh Oh
Revelations
Bait (Ft. Banks)
Sex Talk
Hit It From the Back
Claws
Minute
Coconuts
Castle in the Sky
Brrr
Unholy with Sam Smith
Pre-Order Info For Feed The Beast
Fans can now pre-save the album on Spotify and Apple Music.