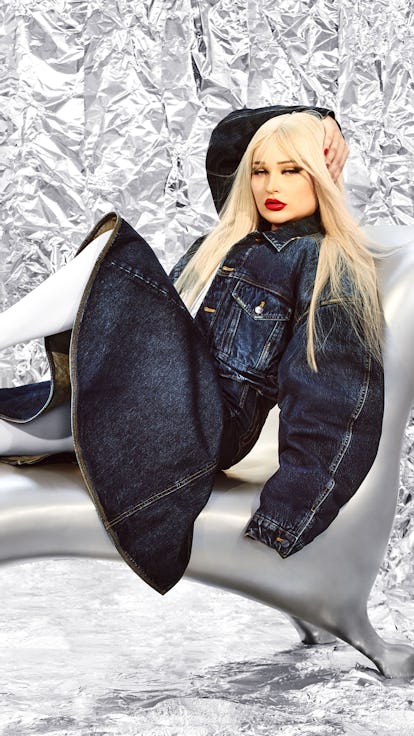 The Fabulous, Exhausting, Jet-Setting Life Of Kim Petras
With her long-awaited debut album, Feed the Beast, the "Unholy" singer finds her main character energy.
Kim Petras is leaving for the airport. Lately, she is always leaving for the airport. Earlier this month, she'd been in New York for the launch of a Motorola phone. Then it was back home to Los Angeles to perform with Paris Hilton before returning to New York for her own set at Governors Ball. The festival drew more than 100,000 spectators, and Petras played on a bill that included Lizzo, Haim, and Kendrick Lamar. How does one celebrate after a show like that?
"It was honestly sad," Petras says. "I went to the hotel and signed, I think, 1,800 CDs. I have to get to a lot more than that; we're kind of in a time crunch, and it's time for delivery." Describing the scene, she says: "You're in your hotel room, you're single — but I had my team with me. We were just watching the Hannah Montana movie, and I was getting those signatures. Honestly, that movie feels very relatable to me at this moment in my life."
There are worse metaphors for this moment in Petras' career than the story of a country girl with a double life as a pop star. In February, the 30-year-old artist won a Grammy Award for "Unholy," her collaboration with Sam Smith; before performing the song live on TV — in a performance Ted Cruz later called "evil" — Madonna mouthed to Petras backstage: "Go get it, b*tch." In May, she sat front row at the Chanel show on the Paramount lot in Los Angeles and later appeared on the cover of the Sports Illustrated Swimsuit issue, a milestone for a trans artist. Now, after what feels like endless delays and Internet leaks, her major label debut album, Feed the Beast — featuring the Nicki Minaj collaboration "Alone," which samples Alice Deejay's Euro-club classic "Better Off Alone" — arrives June 23.
Petras' ascent is both unprecedented and overdue. For years, she was dismissed by executives and industry watchers as a niche artist, she says. "People would tell me all the time, 'Oh, you just make gay club music.' I pride myself on that. I love making gay club music." But in the quiet moments away from the spotlight, the Kim who likes ramen and low-key dinners at friends' houses started to wonder if she wasn't also hiding in those gay clubs. Why can't a trans girl from Germany be the world's biggest pop star?
Kim Petras likes to play characters in her music. On her 2017 breakout single, "I Don't Want It at All," she was a spoiled brat, whining about designer clothing. But the song was born from pain. Petras grew up in a small village outside Cologne, the daughter of a dance teacher and an architect, and lived a quiet life — until age 13, when her transition was chronicled by a news crew and she became something of a national curiosity, or, perhaps worse, a German punchline. For Petras, fashion offered freedom through self-expression. "When I was a kid," she says, "I used to have to go to school in boys clothes. At home I was allowed to wear whatever I wanted, so I would just wear ridiculous things and feel like myself. But I felt like I was this weird monster that needed to be hidden."
She started writing songs in her bedroom, finding success with, of all things, commercial jingles. The German-laundry-detergent-to-Hollywood pipeline is a singular road. And at 19, having saved up enough money from a job waiting tables, Petras flew to Los Angeles and essentially couch-surfed for a while.
"I came to L.A. to learn how to make pop music" — not to be famous, she clarifies — "and that's a specific difference. I didn't see the sun for years. I was such a studio goblin. L.A. definitely wasn't how I pictured it when I was back in Germany," she says. "I only knew it from movies and TV shows, but it seemed magical. It's not like that in reality. And I spent a lot of time on futons writing songs about lifestyles completely different from mine, but I found a lot of inspiration in the fantasy of it." She adds: "Moving back to Germany and giving up on pop wasn't really an option for me."
The pretend-princess she played on "I Don't Want It at All" would give way to the underworld killer on 2019's "There Will Be Blood," from her horror-themed Turn Off the Light mixtape, and then the semi-pornographic, man-eating club kid of her 2022 EP Slut Pop, where she dubbed herself the "throat goat" (sample lyric: "No gag reflex, I just had to flex").
"In my life," Petras explains, "it makes me feel quite uncomfortable to be the main character." But these personas, "they're all different parts of me. On Turn Off the Light and Slut Pop, I magnified parts of myself into larger-than-life characters because that was always more fun to me. I always looked at pop music as an escape, and I want my music to do that for other people because it was so important for me growing up."
In another timeline, Petras might have been granted a slow roll to the mainstream and a chance to grow on her own terms. Her 2018 song "Heart to Break" just scraped into the Top 40 chart (though your mom would definitely have to Google her). She signed with Republic Records (home to Ariana Grande and Taylor Swift) in 2021, but her album Problématique — a winking nod to some perceptions of her in the industry — leaked online and mostly had to be shelved. "It was sad," Petras says of the moment, "because the fans loved the music, but they were like, 'Oh, your stuff never gets released and always leaks.' It became this negative thing, and I'm like, 'I didn't want to leak it. I didn't want you to hear it.'"
I was afraid of making big songs. I always thought I was too weird to be played on the radio.
She quietly went back into the studio. But then "Unholy" blew up on TikTok and became an inescapable pop monster and much bigger than anything she'd sniffed at before. She would make history as the first transgender artist to win a Grammy in a major category, and then appeared on one of the covers of the Sports Illustrated Swimsuit issue. While she wasn't the first transgender woman to snag that honor — Leyna Bloom covered it in 2021 — Megyn Kelly predictably lost her sh*t, calling the image a "fraud" and saying the magazine failed in its singular mission: "My understanding of the cover of the Sports Illustrated magazine is it has one main purpose, and that's for 15-year-old boys to spend some alone time with it in the bathroom."
Why a grown woman was concerned with jerk-off material for underage boys — who's the groomer now? — missed the point. If anyone was masturbating here, it was Megyn Kelly, a provocateur invoking Petras' name for the same reasons SI did: as a stab for relevance.
For the record, Petras says being on the cover of the Swimsuit issue was life-affirming: "It felt like people telling me I'm good enough to be out in the open in a swimsuit being myself, which is an amazing feeling." Or, as she put it earlier this year: "Any kind of backlash that I face is, you know, a whole lot better than a trans kid getting murdered in a park."
But by the spring, it was clear the stakes had changed. She'd now be releasing her major label debut in a rapidly changing political climate, the effort weighted with Grammy-winning expectations. On Instagram, she didn't appear to be sweating it, recently captioning some outfit-of-the-day pics: "my p*ssy pink, my socks are thom browne." But there was more on her mind.
Petras lives in Beachwood Canyon, a quiet neighborhood beneath the Hollywood Sign, where she tells me she keeps her Grammy in the kitchen. "It's usually where me and my friends have a glass of wine or talk and whatever. We're always in the kitchen. I just keep it around in the cabinet. I don't touch it. I'm scared to touch it. I feel like I'll break it cause I feel like I break everything that I own."
She hangs mostly with the same L.A. gay guys she met on the Internet a decade ago. "They understand me as a person. It's not because they're gay or anything like that, but I surround myself with people who see me as a unique person and not as a label or a box that I have to be in."
She's thinking about that box in a different way — in part because of the success of "Unholy." "I was afraid of making big songs for a second," she says. "I always thought I was too weird to be played on the radio. And 'Unholy' just showed me I'm not." Feed the Beast is about "your deepest, darkest desires. [The things that] feed your fantasies, stuff you don't even dare to talk about with people." While promoting Slut Pop, she often said she didn't have time to date, and that she had men — playthings, really — stashed around the world. But today, she reveals she'd been in a long-term relationship and had worked through a betrayal with her art.
At the Governors Ball earlier this month, Petras played "King of Hearts" for the first time. It's a get-your-ass-on-the-floor track that is also a sharp takedown of a cheating ex. In the lyrics, she blames herself for not heeding the warning signs, singing: "I met you one night on the corner of a bad decision," and "I was on my knees, thought there was only me."
"King of Hearts" is confessional, she tells me. "That was definitely my life. I've had a history of dating the wrong guys. I'm such a relationship girl, so I got out of a long relationship and then found out a bunch of stuff and that sucks. But you move on and you write songs about it. There's a lot of songs that felt like I needed to write to get over things or to handle things."
Is there a song you weren't ready to write until now?
"I think 'Claws' was a really important one," she says, revealing it came pouring out of her in 20 minutes. "I came into the studio, and I was really sad, and I didn't know why, and I'd been sad for months at that point. It just summed up a whole experience for me that I didn't even know I felt that way about."
I ask her what the song is about. Here, a publicist — who'd been listening in on our interview — interrupts the call: "We can't get too in depth with some of the songs that aren't out yet. This is coming out before the album drops."
Petras sighs — "It's out in like two weeks," she says — then relents, saying as much as she can: "It's about a failed relationship for sure. And there's a German yodel in there, which just makes anything better."
A major label deal allows her to focus on making music and not, as she explains, the mechanics of "like, getting things ingested into Spotify and making sure it gets playlisted." And in our conversation, she seems open to the idea that there was some cosmic meaning behind the album's delay. Losing Problématique forced her to grow. Feed the Beast is, by her own description, still a techno-inspired dance record, but it's also her most personal work to date.
In my life, it makes me quite uncomfortable to be the main character.
My mind returns to Hannah Montana, and it occurs to me: Hannah Montana's journey is about realizing she doesn't need an alter ego. When Petras made that offhand comment about watching the movie the other night, I assumed it happened to be on TV in the hotel and she let it play. But she actually chose it herself. "We all agreed that that was the movie we had to watch," she says.
This character Kim is playing on Feed the Beast — it's her, she admits. "I think I'm just more confident now for the music to represent me and my own point of view," she says. "I think I pushed myself harder as a songwriter; I got pushed to my personal edge. The leak of Problématique made me make this album, which connects with me a little deeper than Problématique ever did."
She's off to the airport, flying to Germany for an album listening party, but she'll be back in New York for an appearance on the Today show's summer concert series. What does it mean for the "throat goat" to perform for Hoda and friends?
"It means getting up really early," she says with a laugh.
Top Image Credits: Marc Jacobs clothing and shoes, Falke tights
Photographs by Danielle Levitt
Styling by Jan-Michael Quammie
Set Designer: James Rene
Hair: Iggy Rosales
Makeup: Gilbert Soliz
Manicure: Britney Tokyo
Talent Bookings: Special Projects
Video: Kyle Hartman
Associate Creative Director, Video: Samuel Schultz
Photo Director: Alex Pollack
Editor in Chief: Charlotte Owen
SVP Fashion: Tiffany Reid
SVP Creative: Karen Hibbert