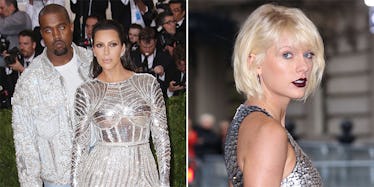 Kim Kardashian Calls Taylor Swift Out For Drama Surrounding That Kanye Lyric
REX/Shutterstock
And the Taylor Swift drama continues!
This time it's not about tall blonde men though, it's about her old pal/enemy Kanye West and that infamous "Famous" lyric.
In an extensive profile for GQ magazine, Kim Kardashian said despite Taylor Swift's claims, the "Shake It Off" singer really did give Kanye approval for that line about her in his song "Famous."
If you'll recall, the line reads,
I feel like me and Taylor might still have sex / Why? I made that bitch famous
After the song dropped with The Life of Pablo, Kanye took to Twitter to defend the lyric, claiming he got explicit permission from Taylor to say it and even professing Taylor came up with the line.
Taylor's people quickly responded to this, saying Taylor never gave permission, and in fact warned Kanye away from using misogynistic lyrics.
Then, of course, her Grammys speech was pretty clearly directed at Kanye, when she said,
There are going to be people along the way who will try undercut your success, or take credit for your accomplishments, or your fame.
So who was telling the truth?
Kim Kardashian firmly believes it was her husband, and, according to her, there is even video to prove it. Apparently a videographer was filming while Kanye made the call because Kanye films everything he does for a possible documentary someday. (Side note, really can't wait for that doc!)
Kim told GQ,
She totally approved that. She totally knew that that was coming out. She wanted to all of a sudden act like she didn't. I swear, my husband gets so much shit for things [when] he really was doing proper protocol and even called to get it approved.
Kim went on to say on the phone, Taylor said she planned to tell the media she was in on the joke with Kanye. And, obviously, that's not what happened. Kim said,
It was funny because [on the call with Kanye, Taylor] said, 'When I get on the Grammy red carpet, all the media is going to think that I'm so against this, and I'll just laugh and say, 'The joke's on you, guys. I was in on it the whole time.' And I'm like, wait, but [in] your Grammy speech, you completely dissed my husband just to play the victim again.
According to Kim, Taylor's lawyers later sent a letter demanding the footage of that phone conversation be destroyed and never released to the public.
GQ reached out to Kanye's team for proof of this footage, and while his lawyers confirmed it existed, they did not provide anything else.
The magazine also reached out to Taylor's team for a comment on the footage, and Swift's side claimed Kim was incorrect in her interpretation of the phone call.
In an official statement released to GQ, a representative of Taylor said,
Taylor has never denied that conversation took place. [...] A song cannot be approved if it was never heard. Kanye West never played the song for Taylor Swift. Taylor heard it for the first time when everyone else did and was humiliated. Kim Kardashian's claim that Taylor and her team were aware of being recorded is not true, and Taylor cannot understand why Kanye West, and now Kim Kardashian, will not just leave her alone.
It kind of sounds like both parties might be right, and both Taylor and Kanye just vastly misinterpreted what the other was saying on that call.
But unless we see that footage, I guess we'll never know.
Citations: Kim Kardashian West On Kanye and Taylor Swift, What's In O.J.'s Bag, and Understanding Caitlyn (GQ)