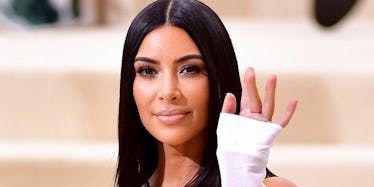 Kim Kardashian Posts Details About New Reality Show On IG And We're Thrilled
Getty
It's about to get a lot easier to keep up with the Kardashians, because Kim is launching yet another reality show!
But instead of her family's usual cameras-following-around fare, the new show is going to be a competition series, where makeup artists and beauty bloggers will compete to join Kim Kardashian's glam squad.
Kim Kardashian announced her new reality show "Glam Masters" on Instagram on Wednesday, revealed it will air on Lifetime (not E!) and shared a link to the application to be on the show.
We noticed "Glam Masters" has actually quietly been accepting applications for almost a year now, but I'm sure it'll be getting a lot more now that Kim has officially confirmed her involvement.
So what will "Glam Masters" look like?
According to the casting site, each episode will consist of four makeup enthusiasts competing against one another in makeup-related challenges. Each episode will have a winner, and then those winners will move on to compete again until there's one champion.
The winner will sign on to work with Kim Kardashian — who serves as executive producer on the series — as the Beauty Director of Kardashian Apps. It's kind of got a "Paris Hilton's My New BFF" vibe, but with a business-oriented twist.
Of course, Kim will be going up against her other famous sisters' new reality shows with "Glam Masters." Khloé Kardashian recently premiered her weight-loss show "Revenge Body," and Kylie Jenner is filming her upcoming reality spin-off "Life of Kylie."
The application for "Glam Masters" is a five-page questionnaire that asks participants about their background in makeup, their influences and how many followers they have on Instagram or Youtube.
It's clear the show is looking for already established beauty bloggers with a large online following, which kind of makes sense since the winner will be working for Kardashian's app company.
No word yet on when "Glam Masters" will premiere, but the application discloses it will begin filming this summer and fall, so likely at the beginning of 2018.