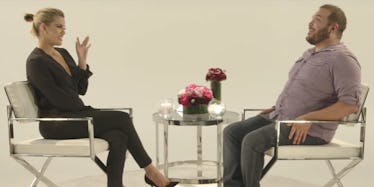 Khloé K's 'Revenge Body' Has Health Experts Calling It Not 'Body Positive'
YouTube
I love a good revenge story. Being petty at the expense of an ex sounds like a great time to me, although I'm not fairly creative in the art.
My revenge tactic usually comes in the form of a passive aggressive Instagram post, showing just how great I'm doing without a person -- only to realize far too late they've already unfollowed me.
So, when I first saw Khloé Kardashian's revenge body, I was like...
Our girl Khloé Kardashian grew up incredibly insecure surrounded by her sisters Kim Kardashian and Kourtney Kardashian so her revenge body is all about making herself feel good about the skin she's in.
But her latest reality TV show "Revenge Body With Khloé Kardashian," which premiers on January 12 on E!, is drawing a bit of backlash.
Health experts are of the opinion losing weight for "revenge" is dangerous and won't result in a long-term solution.
In a promo for her series, Kardashian asks the contestants who their revenge body is for, and their answers range from their ex-fiancé to their own mother.
Rebecca Clyde, a dietician and health and body positivity coach at Nourish Nutrition, wrote on her Facebook,
The idea to package a 100% appearance based program in a pretty & body positive bow is horrifying. Getting back at your ex with a 'revenge body' is not empowering, nor is it body positive. It can't be, it is the antithesis.
Ary Nunez, a trainer who boasts clients like Rihanna and Alicia Keys, says the weight the contestants lose will likely be gained back unless the show includes a mental-health aspect.
However, trainer Lacey Stone, who appears on the show, said "Revenge Body" is just a title.
She told FOX411,
Yes, the title is revenge, but it's not about that. This is a transformation show... and it makes me upset that people who don't know what the show is about have these opinions. There's someone in every one of these people's lives who told them they're not enough. That's what this show is about.
If everyone just got a better body because someone wronged them, "Kill Bill" would have been a very boring movie.
Citations: Khloe Kardashian's 'Revenge Body' has some health experts concerned (Fox News)