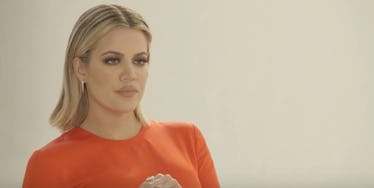 Khloé Kardashian Gets Real About Growing Up With Kim K: 'I Was So Insecure'
YouTube
Shhh, everybody. Khloé Kardashian is opening up, and I am not missing a single thing coming out of her mouth, understand?
In a new preview (above) for her series "Revenge Body With Khloé Kardashian," Khloé gets candid with a guest named Stephanie about what it was like growing up with her sisters Kim Kardashian and Kourtney Kardashian.
And it wasn't an easy walk in the park, according to her.
I'm right there with you. And by "it," I just mean "all my problems and 2017 resolutions." That... that's what you meant, right?
After Stephanie, who is on the show to get her own revenge body, tells Khloé Kardashian she has to deal with acne, Khloé reveals she herself started getting acne in her 20s,
I was so insecure. And my sisters have had the most beautiful skin their entire lives, like, not even a pore. I was like, 'How the fuck am I the chubby one? The this one, the that one, it's not fair!' But, that stuff's all fixable.
Preach, Khloé, preach!
Everything is fixable and no problem is too great to overcome. Also, Khloe... you are fucking perfect. I'd ask for your hand, but I'm sure Tristan would have a problem with that.
"Revenge Body With Khloé Kardashian," which premieres on January 12 on E!, centers around giving contestants the epic transformations they're looking for to switch up their life.
Speaking of epic things, Khloé just had an epic New Year's with her boyfriend Tristan Thompson.
The two packed on a lot of PDA, enough for single guys like me who had to kiss a wet mop with googly eyes at midnight that much more lonesome.
What am I saying? I love you, mop with googly eyes.
Overall, it just goes to show if you feel self-conscious now, it doesn't necessarily mean you'll feel insecure forever.
Citations: Khloe Kardashian Admits Struggle Growing Up With Sisters Kim and Kourtney: 'How the F**k Am I the Chubby One?' (Entertainment Tonight)