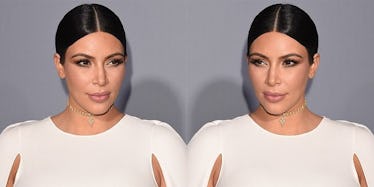 Kim Kardashian Makes First Appearance Since Giving Birth To Saint West
Getty Images
Since giving birth to son Saint West on December 5, Kim Kardashian West made her first appearance in front of the camera during a live stream on Thursday night.
In the live stream, airing on both her app and personal website, Kim showed off glowing skin and cute braids as she filled in followers on what she's been up to.
Although she previously kept fans in the loop on her daily goings on at home, she's been keen to leave her face off the screen until now.
During the live stream, Kim talked about life with her new baby and how she's loving taking time to be with her family.
She reportedly said,
My boobs look enormous, which they are... I have just been chilling at home with the baby and being cozy in robes... I decided to put makeup on... I have been loving life, just staying home and not going anywhere.
While staying home, Kim told followers she's been listening to Kanye's upcoming album, which is apparently "crazy" good.
She's also not bothering with the usual glam-squad ordeal every day as she said she'll keep wearing braids and avoiding product for the next few months while her hair grows out.
SHES BACK!!! SHE LOOKS SO STUNNING EVEN IN THAT LIGHT i missed you on live stream!! @KimKardashian pic.twitter.com/MIU864csKu — Court Kardash (@Courtneykdash) December 18, 2015
Kim answered a Twitter question about her favorite Starbucks beverage during the stream and said she loves to indulge on occasion, like most people, with a White Chocolate Mocha with whipped cream.
But that's only when she doesn't go for a classic soy latte or hot cider during the holiday season.
Despite her little indulgences here and there, you already know Kim is focused on getting her body back in shape post-baby.
She reportedly told viewers she plans to track and live stream her weight-loss journey, even if she has to get in her workout as early as 5:30 am before the kids wake up.
This mama is dedicated! But considering her Paper magazine cover after giving birth to North West, I have no doubt she'll be gracing more magazine covers in no time.
Citations: Kim Kardashian Appears for First Time Since Giving Birth to Saint: ''My Boobs Look Enormous—Which They Are'' (E!)