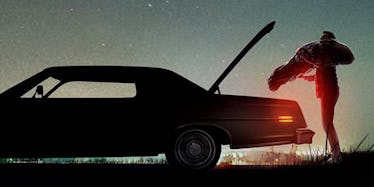 'The Killing Season' Creators Share Scariest Moments Tracking LI Serial Killer
A&E
In December 2010, the bodies of four women were discovered in a remote area of marshland on Long Island. In the months that followed, police found six more bodies nearby, with many concluding that this was the work of a serial killer — or killers — targeting sex workers, and this was their dumping ground.
The Gilgo Beach Killer, The Long Island Serial Killer, The Craigslist Ripper — a person with many monikers — dominated New York media for months.
No suspects have ever been identified.
A new show on A&E called "The Killing Season" takes a deep dive into this unsolved case and the dark secrets of the world around it.
While "The Killing Season" begins in Gilgo Beach, the team realizes this is much bigger than the Long Island town, so they explore eerily similar leads across the country. This journey, at its core, attempts to shed a light on one thing: the often terrifying underground world of sex workers.
Elite Daily spoke with the filmmakers behind "The Killing Season" and heard about their most terrifying moments of filming the show.
Joshua Zeman, Director/Executive Producer:
I would have to say that my most terrifying moment of filming was actually the most chilling. Rachel and I were on the phone, interviewing John Robert Williams, a long haul serial killer who is currently incarcerated in Mississippi for one murder, but he's believed to have killed up to 30 women. Williams was talking to us about his rules for killing, i.e. never kill anyone close to where you live, or always dump a body over state lines, which, to me, is just crazy that he had this actual checklist, and then he revealed to us, that he had met numerous other serial killers out on the road — killers who were truckers, and that he could somehow connect with these individuals by how they talked to each other on the CB radio. And then he revealed that he was part of a group of serial murders known as the the "Netahe" which was, as he said, an apache term for "avowed killers" and that there were seven of them —  five men and two women, and they would kidnap, torture and trade women back and forth. It was like something out of a David Fincher movie. Maybe I was being naive but I never realized there was a such a dark underbelly to the world we were living in, and that these individuals, they gravitated towards each other. It was truly terrifying.
Rachel Mills, Executive Producer:
While looking at the unsolved Daytona Beach Serial Killer case, we located one of law enforcement's initial persons of interest — a man named Gary Mansfield. In a bizarre twist, Gary's brother, Billy Mansfield, is a convicted serial killer and Gary himself was charged as an accessory to one of his brother's murders — the rape and strangulation of a young woman. Gary eventually testified against his brother and the charges against him were dropped, but Billy was sentenced to life in prison. While Billy Mansfield serves his sentence, Gary lives on the family's "compound," a six-acre junk yard in Weekie Wachee, Florida. The very same compound where police made another horrific discovery... Back in 1981, police found the body of a teenage girl in a shallow grave. In the following days, three more bodies were unearthed. Billy was given a concurrent life sentence for one of these murders, yet tragically, 36 years later, two additional victims remain unidentified. The next day, we drove up to the Mansfield compound to speak to Gary. Just moments before pulling past the gates, a confidential source told us that police suspected there were at least two more women — two more Jane Does — buried somewhere here on these ground. The realization that more victims could be right under our feet only increased my unease. As we walked past the piles of rusted washers and dryers toward Gary, who was fixing a motorcycle on the porch with a knife in hid hand, it felt like a scene straight out of "True Detective," however this was far more terrifying because this wasn't fictional television — this was real.
Check out "The Killing Season" on A&E or here online.
Citations: People