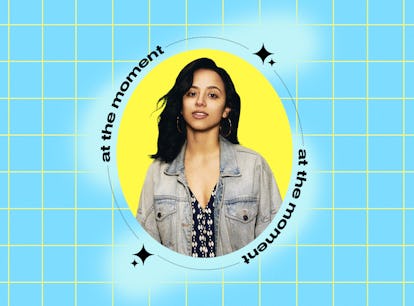 You've Never Seen Kiana Madeira Like This Before
With two grown-up movies out now, the Fear Street star is expanding her breadth of work.
Elite Daily/Ben Cope
In Elite Daily's series At The Moment, celebs dish on their current projects, pop culture hot takes, and everything taking over their group chats. Below, Perfect Addiction and Brother star Kiana Madeira opens up about how she's staying calm amid one of her busiest years to date.
Kiana Madeira is having a cozy day in her hometown of Toronto, Ontario. She spent her morning journaling and drinking coffee, and she joins our Zoom with a fresh face and a gracious smile, as if she's catching up with a long-distance friend rather than being interviewed by a journalist she's never met. The vibes are so immaculately chill that it's easy to forget Madeira is actually in the middle of promoting not one but two major movies — and planning a wedding that's been three-plus years in the making.
Madeira is no stranger to being booked and busy. She spent the majority of her 20s starring in Netflix teen hits like Trinkets and the Fear Street horror trilogy. Perhaps that's how she learned to slow down and take it all in. "Whatever you do in this world, it's very easy to get caught up and end up just going through the motions," the 30-year-old tells Elite Daily. "There are so many wonderful things happening, I just want to be here to really experience them."
Following her buzzy supporting role in the third and fourth installments of the After series, Madeira is now the lead in a new Wattpad sensation-turned-film adaptation, Perfect Addiction (out March 24). She stars as Sienna, an MMA trainer who catches her star fighter and boyfriend (Matthew Noszka) sleeping with her sister (Bree Winslow). Sienna's revenge? Training her ex's rival (Ross Butler) to beat him in a fight — only for complicated feelings (and steamy passion, natch) to get in the way of her plan.
It was a challenging role to prepare for. "I kind of avoided watching [MMA] growing up because I'm very sensitive to violence and it can get pretty ruthless," she says. But Madeira dedicated eight weeks to training, weightlifting, and researching in order to pull off playing an expert in the sport. "My [social media] algorithm completely changed from cute babies to fighting real quick."
As with any good Wattpad adaptation, Perfect Addiction leans pretty heavy on the sex. Madeira is relatively new to filming intimate scenes, but she had a positive experience on set and credits that to the crew's open communication and trust with her primary scene partner, Butler.
That doesn't mean she doesn't have her concerns about watching the scenes back, though. "My immediate thought is, 'Oh man, how's my dad going to watch this?'" Madeira says with a laugh. "I was warning him about it and he was like, 'Sweetie, you know I just love your work and I love everything you do,' so I'm excited to follow up after and see how he really feels about it."
She's also got a game plan for watching herself in these scenes. "Being a woman in the world, we can be so hard on ourselves in regard to the way that we look and how our bodies look. It's a huge mission of mine to not judge myself harshly and reassure myself that however I looked on that day, however I showed up, was perfect," she says. "I feel like if I really believe that about myself, I can then spread that message to anyone who's willing to listen."
Up next, Madeira also appears in Brother, a film festival darling that's finally making its way to theaters and streaming this month. The movie, centered on the relationship between two Canadian brothers growing up in Toronto in the early 1990s, takes a more serious tone than the previous projects fans know Madeira for.
"Brother is very special to me because it's a Toronto story and that's where I was born and raised," she says. "It's a beautiful story and it highlights Black culture in Toronto." Another bonus? Madeira co-stars in it with her IRL fiancé, Lovell Adams-Gray. "That was our first opportunity to work on something of this caliber together, so that was special in itself."
This leads to the other big collaboration between Madeira and Adams-Gray: their wedding, taking place this fall in Toronto. "We got engaged just before the pandemic, so for a couple of years it felt like, 'Man, I don't know when this is going to happen,' but this is the year," she says. Although they're keeping most of their wedding details private, Madeira divulges a few hints: "The venue has a very royal vibe … And our bridal party is huge. There's 26 people, 13 on each side." Despite the grandeur, Madeira insists wedding planning has "been a very peaceful, smooth process."
Madeira approaches each topic we discuss with refreshing positivity and candid introspection. (Yes, even the smutty Wattpad scenes.) Before ending our call, I have to ask: Has she always been like this?
"It's been a journey," she admits. "I was a really quiet kid and I think through the years of being an observer, I've developed a lot of compassion for humans and just acknowledge everyone's journey and where they're at. Also, I'm on a very personal journey in my relationship with God. The spirit of compassion and patience and kindness and all of the beautiful things that come with having a relationship with Jesus, I think have really helped me set intentions daily to spread that love."
Below, Madeira shares some more musings about her life, her work, and her biggest ick.
This section has been edited and condensed for clarity.
What's your sun, moon, and rising sign?
Sun: Scorpio. Moon: Pisces. Rising: Aries.
What's one thing you wish more people knew about you?
That I'm kind of funny. I feel like when people get to know me they're like, "Oh my gosh, I didn't know you were that funny." Like, I'm kind of goofy and I don't know if a lot of people know that.
TV show you're obsessed with lately?
The Last of Us, starring my Brother co-star Lamar Johnson, who's amazing.
Who's your best friend in the showbiz world?
Lovell.
Dream co-star?
Florence Pugh.
First thing you do every morning?
Pray.
What's your idea of a perfect date night?
Going to see a Broadway show, eating an amazing vegan dinner in New York City, going for a walk in Central Park, and cuddling up on the couch after and drinking some red wine.
What's your most controversial hot take?
I love pineapple on pizza.
Biggest ick?
Loud chewing when people are eating. I don't like ASMR. It's icky to me.
Got any hidden talents?
I'm pretty good at rapping, because my brother's a rapper, so he's always making me freestyle. Sometimes I'm not bad.
What would you be doing if you weren't acting?
I would be a kindergarten teacher.
Biggest life lesson from your 20s that you want your younger fans to know?
Don't focus so much on what you look like. Instead, nurture your soul and try your hardest to love yourself, because you're amazing. We can spend so much of our life trying to change everything about ourselves when really there's nothing to change at all.