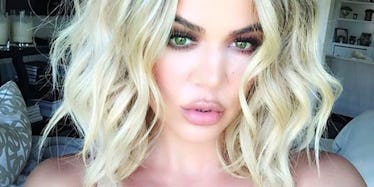 Khloé Kardashian Has The Perfect Trick To Fix Your Sunburn This Summer
Instagram/ Khloe Kardashian
There are two ways to handle your fragile skin in the summer months:
1. Follow Kylie Jenner's advice and slather on the SPF.
2. Say "fuck it" and let the sun sear every last inch of your face like a tuna fillet until you're unrecognizable to your family but become a huge hit with "Deadpool" fans at Comic-Con.
For you reckless number two-ers out there with a taste for danger and facial scarring, Khloé Kardashian shared her secrets to covering up sunburn on Khloewithak.com.
To neutralize bright red patches, Khloé recommends applying a green, color-correcting primer that'll also keep your foundation and concealer from flaking off your damaged cheeks.
Next, the 30-year-old warns against any heavy-handed foundation application.
She advised,
Use a mineral foundation when your skin is irritated: It's gentler, and a powder formula will feel more comfortable on your sensitive skin.
Khloé uses Becca Perfect Mineral Skin Foundation to go from burnt-up and busted to Becca With The Good Face.
Bear in mind beautiful skin is far more attainable with thorough, long-term care. This includes avoiding baking in the sun or tanning booths.
Save yourself a few minutes in the mirror every morning and avoid direct sunlight altogether. Let's all just agree to be stunning, ageless vampires.
Citations: Khloé Kardashian's Makeup Trick for Dealing with Sunburns is Genius (Khloe Kardashian)