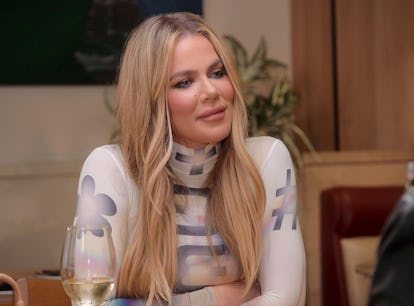 Khloé Can't Imagine Kissing Tristan Ever Again
"I'm not attracted to Tristan."
It's no secret Khloé Kardashian and Tristan Thompson's on-again-off-again romance has been extremely complicated. At this point, it's hard to even keep track of how many times they've broken up and gotten back together again amid all Thompson's cheating scandals. Currently, they're not together, although recent episodes of The Kardashians have shown some signs there may still be a spark. However, Kardashian very explicitly shut down any possibility of giving Thompson another chance in the latest episode of the reality show.
Kardashian and Thompson's messy relationship has been a big focus in Season 4 of The Kardashians. Though they broke up in 2021 in the midst of the revelation Thompson had fathered a child with another woman, they are still co-parenting their two children, True and Tatum, together. To make things even more tangled, Thompson temporarily moved in with Kardashian in early 2023.
While living together, the possibility of getting back together seemed more likely than ever, especially with Kardashian's mother Kris Jenner not-so-subtly suggesting she give her ex one more chance. On the Oct. 26 episode of The Kardashians, Kardashian told her bestie Malika Haqq that though she does still want to be with Thompson for the sake of their family, she simply isn't attracted to him anymore.
"In an ideal world, I wish I was married, and that we had our family together," Kardashian said. "Like, that's what everyone wants. But I'm not attracted to Tristan."
Kardashian continued, admitting that she can't see herself kissing Thompson again. "I know he's very handsome. Like, he's a beautiful statue of a human. I'm not like, blind," Kardashian said. "But I can't think about kissing him on the lips. It's just not in my wheelhouse."
The remark seems to close the door on Kardashian and Thompson's romance, and prompted Haqq to encourage her bestie to get out of the house more and start looking for her next match. It's not the first time Kardashian's friends have tried to set her up after her breakup with Thompson. Another recent episode of The Kardashians centered on Kim orchestrating a date for Khloé with actor Michele Morrone. That fling didn't work out, but Khloé isn't worried about it. She assured her mom in the new episode that she's completely content with where her love life is at right now.