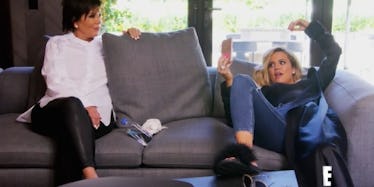 Here's How Khloé Kardashian Reacted To Kylie And Blac Chyna's Viral Selfie
E!
When Kardashian news hits, all anyone's wondering is,
WTF is Khloé saying about this mess right now?
We usually have to wait months for the latest season of "Keeping Up with the Kardashians" to award us that insight. In terms of the family's reaction to Rob Kardashian's relationship with Blac Chyna, the time has come for us to ROLL. THAT. FOOTAGE.
This Sunday's episode of the reality show covers Kylie Jenner's peace treaty with her brother's fiancée and sister Khloé Kardashian's standard ~real AF ~ reaction to it all.
A clip from the ep features Khloé scrolling through Twitter as she sits with Kris Jenner and Corey Gamble, only to find screen grabs of Chyna and Kylie being BFFs.
Khloé calls Kylie and asks,
Did you forget to tell me something? I just am seeing screen grabs from Twitter and I'm like, 'What?! This is crazy!'
Kylie's famous Snapchat pic -- in which she and Chy pose together with the caption, "When we've been best friends the whole time" -- may have made it seem as though the duo never had beef, but Khloé's reaction suggests there was definite tension between the two women, who share an ex in rapper Tyga.
At least we can find our chill knowing everyone has since accepted Chyna into the family with open, Cartier-covered arms.
Citations: Khloe Kardashian Reacts to Kylie Jenner and Blac Chyna's ''Best Friend'' Selfie: ''What?! This Is Crazy!'' (E! News)