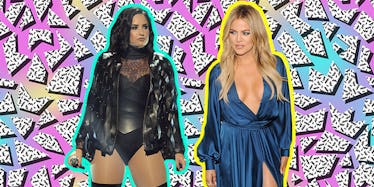 Khloé Kardashian And Demi Lovato Might Be Dating The Same Guy
REX/Shutterstock
As if there wasn't enough drama already, now there are rumors Demi Lovato might be dating NFL player Odell Beckham Jr.
Why is that drama, you ask?
Oh, just because of a little recent rumor Khloé Kardashian might be dating — you guessed it — NFL player Odell Beckham Jr.
Well, this is awkward.
Demi just ended her six-year relationship with actor Wilmer Valderrama last month.
On Tuesday, she was seen on a date in New York City with the wide receiver for the Giants, according to a report from Page Six.
An onlooker at the restaurant in Midtown told Page Six,
Odell came in around 11 p.m. alone, then Demi discreetly arrived about 10 minutes later. They sat in a corner booth, and it definitely looked like a date. They looked very friendly and stayed until around 1:30 am.
Interestinggggg.
As for Khloé, she was seen with the football star back in May, getting down and dirty together on the dance floor.
However, Odell recently commented on those pictures, saying while they did dance together, the two were far from dating each other.
In case you needed even another layer to the drama, Demi sided with the Kardashians in the epic Kimye v. Taylor Swift feud.
But will Khloé even want her on Team Kardashian after this?
I have no idea, but I can't wait to find out.
*Shoves popcorn into mouth and obsessively refreshes Khloé's Twitter page.*
Citations: Newly-single Demi Lovato 'dating Odell Beckham Jr'... weeks after 'quick fling' with MMA fighter Guilherme Vasconcelos and split from longtime love Wilmer Valderrama (Daily Mail)