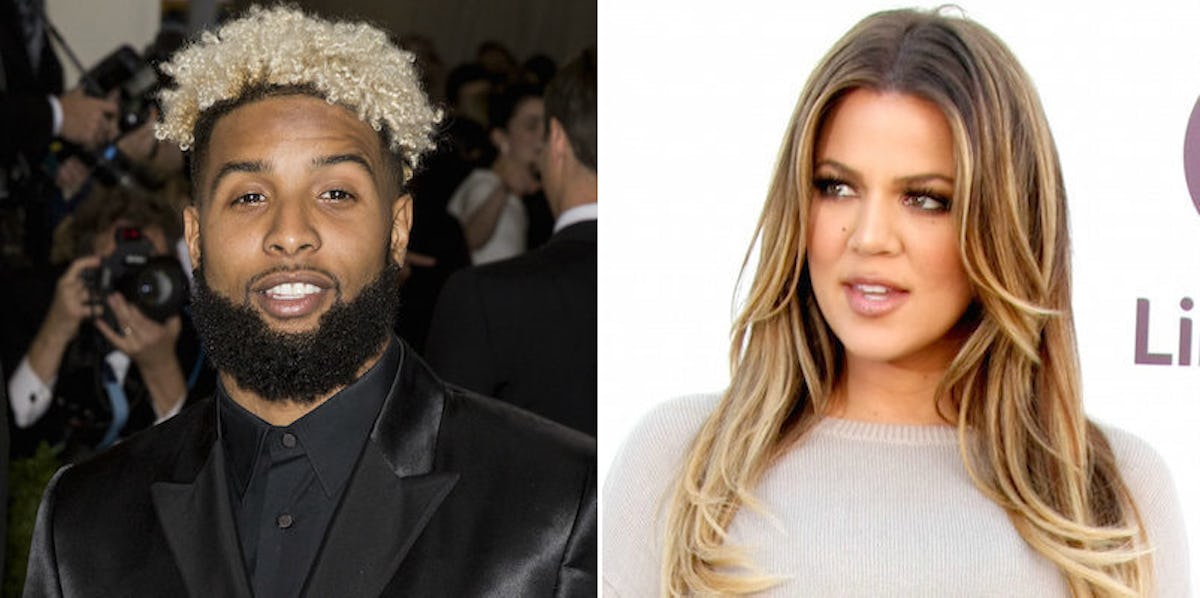 Odell Beckham Jr. Gets Super Real About Those Khloé Kardashian Dating Rumors
Shutterstock
Ever since NFL star Odell Beckham Jr. broke out into the sports scene following his incredible rookie year in 2014, the New York Giants wide receiver has been spending some quality time adjusting to his new life as, not only a professional athlete, but a celebrity, too.
For instance, back in May of this year, 23-year-old OBJ had been photographed getting close with Khloé Kardashian, 32, at one of Drake's jumpin' pool parties. As expected, rumors began swirling within 24 hours that Khloé and Odell might be in a relationship, or at least casually dating.
Here's the original tweet from TMZ Sports.
I'll admit, these two look a little too close to just be friends. As a matter of fact, it looks to me like Drake's pool party wasn't the first time they had hung out. I mean, Khloé's basically sitting on Odell's lap. I don't know about you but I'd assume they were dating -- but I guess they say that's why you should never assume.
Khloé took to Twitter just after the photos surfaced to address the situation.
It turns out Khloé Kardashian and Odell Beckham Jr. share no established relationship whatsoever -- and Odell Beckham Jr. wants the world to know it.
The NFL star opened up to GQ about the rumored romance in the magazine's August 2016 issue, saying,
Whoever was there taking the pictures inside of a private party, inside of a private-er, private-er area of the house—we were in the kitchen of the house, where there was only like 15 people. It's just kind of like...'dating'? I just met this person. This is maybe the second conversation we've had.
I totally understand where the guy's coming from. After all, people flirt at bars, clubs and parties every night without ever making it official. But at the same time, you're OBJ and she's Khloé Kardashian, what'd you expect?!
Unfortunately, Beckham Jr. had to deal with some extra backlash following the rumors, and it had to do with ANOTHER WOMAN.
Things go like that. And then some other girl that I may have been talking to her about it, and now it's more drama, more commotion in my life. And I'm sitting here trying to explain my situation to somebody, and it's really not even a situation.
In other words, the Khloé/OBJ dating rumors might've messed up a good thing he had going with another lady in his life for no good reason... Tough life, Odell. Tough life indeed.
But hey, now the world knows there's nothing going on between the two. It was nothing more than a flirty, intoxicating night at Drake's place.
Citations: Odell Beckham Jr. Explains How Khloe Kardashian Dating Rumors Messed Up His Personal Life (Complex)