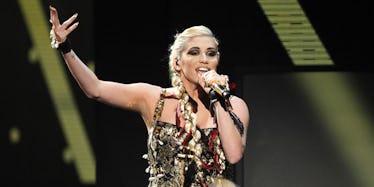 Kesha Joined Zedd Onstage At Coachella For Surprise Performance
REUTERS/Danny Moloshok
Kesha made a surprise appearance at Coachella on Saturday night, joining EDM artist Zedd onstage to perform vocals for his track "True Colors."
The surprise performance is Kesha's first since filing a lawsuit against her producer Dr. Luke, whom she alleges sexually abused her for years.
In February, a judge denied Kesha's request to terminate her contract with Dr. Luke, making it extremely difficult for the singer to produce new music on her own.
However, fellow artists and musicians have come out in spades to offer support and help her in any way they could.
The following month, Sony allegedly cut ties with Dr. Luke, signaling progress in the difficult case.
Twitter just about lost it when Kesha joined Zedd onstage in the emotional performance, and videos from the show prove the sassy singer hasn't lost her touch.
We can only hope that she continues to keep her head held high and fight for her right to live her life away from the grasp of her abuser.
ZEDD JUST BROUGHT OUT KESHA FOR HIS SET IM IN TEARS pic.twitter.com/hwNALNOS98 — Rebecca Black (@MsRebeccaBlack) April 17, 2016
Thank you Coachella! Thank you @KeshaRose! This was special. pic.twitter.com/x8K1XlL3Rk — Zedd (@Zedd) April 17, 2016
Zedd/Kesha for "True Colors." Surprisingly soulful. Encouragingly defiant. pic.twitter.com/s3ATvHKej9 — Todd Martens (@Toddmartens) April 17, 2016