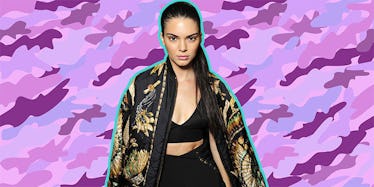 Kendall Jenner Slams Haters In Super Honest Post About Her Nipples
REX/Shutterstock
Yesterday, Kendall Jenner was the face of a Rock the Vote campaign.
Today, she's back to talking about nipples because life is about balance and managing expectations.
Kendall dropped some pretty low-stakes nip knowledge on her app in response to haters who, for whatever reason, give a steamy shit whether women go braless.
She wrote,
I really don't see what the big deal is with going braless!… I think it's cool and I really just don't care! It's sexy, it's comfortable and I'm cool with my breasts. That's it!
The model, whose pierced nipple made news again last week when mom Kris claimed to have never beheld the piercing in all its glory, broached the topic back in 2015.
Last October, she explained,
Having my nipple pierced isn't really something I make a big deal of, but I think people are obsessed with the topic because it seems so unexpected of me… Before I even decided to go for it, I just liked showing my nipples through some of my outfits; there's something understated, yet sexy about it.
Kenny likes to low-key display them nips, mmkay?
She's the Daniel Day-Lewis of torso drama, so haters better buckle up because There. Will. Be. Boob.
Citations: Kendall Jenner Doesn't Understand Why People Care About Her Nipples (Huffington Post)