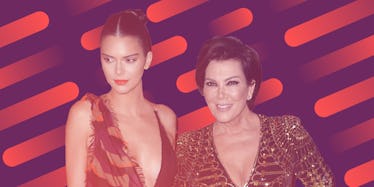 Kris Jenner Had The Most Uncomfortable Response To Kendall's Nipple Piercing
REX/Shutterstock
Just to be clear, it's normal for your mom to not see your nipples. Seriously. Do not rush out and flash your moms.
Kendall Jenner knows there are certain things (nips) you just don't need to share with your mother, even if you're sharing those things (nips, still talking about nips) with the rest of the world.
In an interview Friday on KIIS FM's "The Kyle & Jackie O Show," mom Kris Jenner admitted,
The only place I've ever seen [Kendall's nipple piercing] is in a picture somewhere on the internet or in a magazine where it showed through. So I've never seen it in person.
Perhaps Momma Kris was referring to this photo of Kenny and pal Gigi Hadid, in which the model's nips are on display.
Though both Kendall and little sister Kylie Jenner have the piercings, Kris was shocked by the 20-year-old's choice to get her nip-nap stabbed.
The reality TV matriarch added,
It's not [like] Kendall! That's why it was so surprising… I thought, 'This is not real.' And then I just let it go. I thought, 'I don't even want to know.' I'm in denial.
GET. OVER. IT. KRIS.
That nip will never be the same.
Citations: Kris Jenner Has Never Seen Kendall Jenner's Nipple Piercing IRL (Us Weekly)