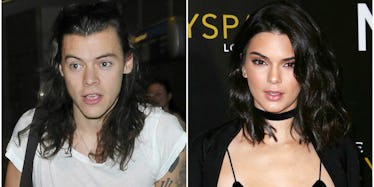 Kendall Jenner And Harry Styles Might Be Getting Back Together
REX/Shutterstock
In celebrity-couples-who-seem-too-good-to-be-true-news: Kendall Jenner and Harry Styles might be giving it another go after they were spotted getting cozy over dinner.
The pair got "super touchy feely" as they dined at the Food Lab in Los Angeles on Monday, according to Entertainment Tonight.
A source told PEOPLE the couple never really got over each other, saying,
 They're rekindling their old romance and Kendall's so excited and happy about it. She's always cared about Harry. He has thought all along that Kendall is hot and was sort of just waiting for a chance to spend more time with her again.
Rumors of Kendall and Styles hooking up were first sparked when they were seen together in St. Barts.
It was round about the same time Gigi and Zayn were dating, so we wanted the speculation to be true (imagine the double date goals!).
Kendall's sister Khloé Kardashian confirmed the romance in an interview at the time. She said,
I don't know if they're like boyfriend-girlfriend. Nowadays I don't know. People are weird with stuff. So, I don't know their title. But I mean, they were in St. Barts together hanging out, so to me that's dating.
Cupid, you know what the right thing to do is.