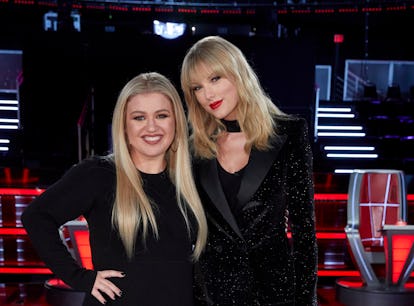 Kelly Clarkson Revealed Scooter Braun Was Upset By Her Re-Recording Advice To Taylor
Many Swifties credit Kelly with coming up with the idea for "Taylor's Version" re-releases.
NBC/NBCUniversal/Getty Images
Kelly Clarkson may be our forever American Idol, but she did make one enemy in the music biz a few years ago. The superstar opened up about some pushback she received from Scooter Braun after she publicly encouraged Taylor Swift to re-record her first six albums as a workaround to her legal battle with Braun. Of course, fans now know that Swift would go on to do just that, and Clarkson revealed that her piece of advice led to an angry phone call from Braun.
Clarkson reflected on her prescient words of wisdom to Swift during a June 21 interview with Andy Cohen on SiriusXM. Back in the summer of 2019, when Swift and Braun were in the thick of their conflict over the ownership of the masters of Swift's first six albums, Clarkson tweeted out an idea for how Swift could regain the rights to her songs: "Just a thought, U should go in & re-record all the songs that U don't own the masters on exactly how U did them," Clarkson wrote in a message to Swift. "I'd buy all of the new versions just to prove a point."
In the years since, Swift has been doing exactly that, beginning with the release of Fearless (Taylor's Version) in 2021. Now that Speak Now (Taylor's Version) is about to drop, there are only three more albums left for her to re-record: Taylor Swift, 1989, and Reputation.
Clarkson said she was surprised when she heard Braun was upset over the tweet. "Scooter took offense to it," Clarkson recalled. "We ran into each other, and he reached out at the time to my manager. I was like, 'It wasn't anything against him.'" The singer said she didn't even know Braun was the one who had the masters. "He called my manager at the time I heard, and I think he thought I was attacking him. I was like, 'I honest to God didn't even realize who had the right.' I didn't even know all the information."
Clarkson said she could sense how painful it was for Swift to not own the art she had created, and that's what inspired her to post that tweet. "I knew it was important to her, so I thought, 'Why don't you just re-record them? Your fans will support you,'" Clarkson said. "Literally, she's a genius. Not only did she re-record it, she planned this Eras Tour — like, this woman is brilliant."
And Clarkson isn't taking credit for potentially inspiring the "Taylor's Version" re-releases with her words of advice. "She would've come up with that on her own and she maybe already had before I even tweeted it," Clarkson mused.