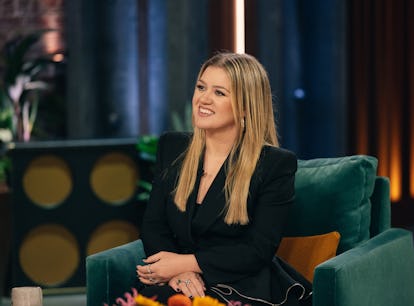 Kelly Clarkson Cleared Up A Controversial Remark About Taylor & Travis
"I did not bash anyone's romance."
The whole world seems to be caught up in Taylor Swift and Travis Kelce's lavender haze, but there's one aspect of the relationship that's kept Kelly Clarkson from totally feeling the chemistry. Clarkson vented about how the buzzy relationship has made watching football frustrating for her. But her words got twisted by some fans, so Clarkson posted a note to clarify that she did not mean to "bash" the Traylor romance.
Clarkson brought up Swift and Kelce while interviewing SNL star Bowen Yang about their surprise appearance on the sketch series during the Oct. 20 episode of The Kelly Clarkson Show. She raved that their cameos were hilarious, but then brought up her one issue with the couple's ubiquitous coverage.
"It's not hilarious how it's literally taking over the NFL, for people who like to watch sports," Clarkson said. "It's like you're watching Housewives. They're just talking about gossip and things, and you're like 'So what about the play?' They're taking over!"
Some Swifties took the comment as shade, prompting Clarkson to post a note on social media clarifying that she was not trying to "bash" Swift and Kelce.
"Do not fall prey to clickbait, trash reporters twisting the facts again. I did not bash anyone's romance," Clarkson wrote. "I am pro romance. Yay romance. Did y'all even watch what I actually said on my show? I just said I want to watch football when I tune in to watch football. Seems like an appropriate request."
Longtime Swifties didn't need the clarification, since Clarkson and Swift have shown their love for one another several times throughout the years. When Kanye West interrupted Swift's VMAs acceptance speech in 2009, Clarkson stood up for her in a fiery blog post. In 2019, Swift joined Clarkson on The Voice and the two singers hugged and praised one another.
But most notably of all, Clarkson was one of the most vocally supportive celebrities of Swift's battle to regain control of her masters. In the thick of Swift's drama with former manager Scooter Braun in 2019, Clarkson tweeted out the idea that Swift should re-record all the albums she didn't own to reclaim her music rights. And Swift did exactly that.