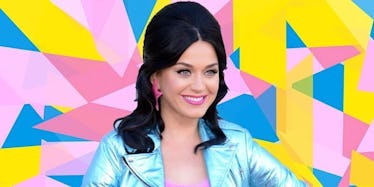 Katy Perry Finally Blessed Us With A New Song And Twitter Is Lighting Up
REX/Shutterstock
The world may be horrible, but at least there's a new Katy Perry song.
It's been a while since we've heard anything from Katy — her third album, Prism, dropped in 2013.
But on Thursday, Katy decided it was finally time time to bless us with her new single, "Rise." It is available for purchase for $1.29 on the iTunes store.
Katy collaborated with NBC to release the song as part of the soundtrack for the 2016 Rio Olympics, and a powerful montage video of Olympic athletes was released alongside the track.
The song itself is a slow, inspirational ballad about getting through tough times, and in light of recent tragedies, it feels relevant to more than just the upcoming Olympics.
That significance was not lost on the 31-year-old pop star, who said on the "Today" show she decided to finish the song early.
Katy said,
[This is a] song that's been brewing inside me for years, that has finally come to the surface. I was inspired to finish it now, rather than save it for the album, because of the overall mood of the world today. Now more than ever, there is a need for our world to unite.
Katy probably did not realize the true weight of that statement at the time because almost simultaneous to the release of the song, the world was learning about the horrific mass killing in Nice, France.
Needless to say, Twitter was grateful for something positive to grasp onto in the wake of the tragedy.
@katyperry so glad to hear your voice again on the radio! This song is fantastic and very relevant with the times we are facing — K.Carson (@MrsCarson2015) July 15, 2016
Can a just get a hands up for new music from @katyperry finally — stephanie (@StephMarieBooth) July 15, 2016
@katyperry OMG OMG OMG I've just heard the whole song #Rise what can I say so powerful I love love love it — Julie Turner (@dizzycoco) July 15, 2016
I guess we all needed a message of hope right now.
Citations: Katy Perry Returns With Dramatic New Single "Rise" (Complex)