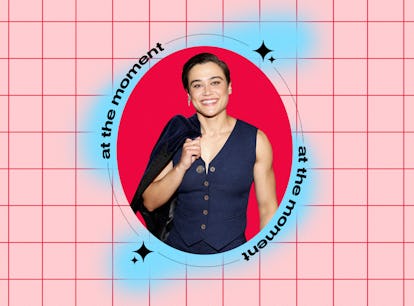 It's Katy O'Brian's Biggest Year Yet
The Mandalorian star dishes on her upcoming roles, her dream co-star, and more.
Lais Borges/Elite Daily; Getty Images
In Elite Daily's series At The Moment, celebs dish on their current projects, pop culture hot takes, and everything taking over their group chats. Below, The Mandalorian and Ant-Man and the Wasp: Quantumania star Katy O'Brian opens up about her recent roles, her weirdest habit, and her dream co-star.
Katy O'Brian is a freedom fighter in a world beyond our own. And a villain in a galaxy far, far away. And a bodybuilder whose biggest competition might be love itself.
Although O'Brian has only been acting professionally for a few years, the 34-year-old has a rather extensive resume, including appearances in franchises like HBO's Westworld, SyFy's Z Nation, Disney's Agents of S.H.I.E.L.D., and this year alone has starred in The Mandalorian and Ant-Man and the Wasp: Quantumania within weeks of each other.
"I started all this stuff like two years ago, and it all just happened to be coming out at the same time," the star says of her jam-packed appearances. She wasn't expecting to be brought back for Season 3 of The Mandalorian but was surprised and honored to rejoin the cast as the mysterious Imperial comms officer Elia Kane. While viewers never really know where her character's loyalty lies, that's exactly the type of dynamic and well-rounded role O'Brian was hoping to play.
In true dedication to her craft, O'Brian filmed season 3 of The Mandalorian at the same time as Ant-Man and the Wasp: Quantumania. Complete with infinite COVID tests, dozens of international flights, and plenty of jet-lag, she managed to successfully complete filming on both projects… and survive.
Now, O'Brian has wrapped her latest role, in A24's upcoming romantic thriller Love Lies Bleeding, which comes out later this year. Starring alongside Kristen Stewart, O'Brian taps into her own history as an amateur bodybuilder from the Midwest to deepen her character with an eerily similar background. When she meets Stewart's character, who owns a gym in New Mexico, chaos ensues and they must fight to have their romance survive another day.
"It challenged me probably more than any other role," O'Brian says. "I had to be on set pretty much every day; you've got your 12- to 13-hour shoot days and then I'd go home and — I'm playing a bodybuilder — so I had to do three full hours of exercise before or after work every day. It was a lot, but I think it's going to be a really beautiful movie."
Below, on the heels of The Mandalorian's Season 3 finale, O'Brian shares some of her favorite things — including which Kristen Stewart film she loved most.
This interview has been condensed and edited for clarity.
Who is your dream co-star?
Anthony Hopkins.
Which would you rather live in the Marvel Cinematic Universe or the Star Wars galaxy?
Oh, man. Marvel.
If you could have any superpower, what would it be?
Teleportation. I'm always late.
What is your go-to coffee order?
An Americano with a splash of oat milk.
What is your favorite place you've visited?
Berlin, Germany.
What's the place that you want to visit?
Anywhere in Greece.
Who was your first celebrity crush?
Pink.
Go-to comfort show to watch?
The Office.
Your favorite karaoke song?
"Highway to Hell" by AC/DC.
Favorite book?
The Count of Monte Cristo.
Would you rather fight 100 Westworld robots or 100 Z Nation zombies?
Z Nation zombies; way easier to kill.
Do you think you could survive to the end of a horror movie?
Yes.
What's your favorite horror movie?
Nightmare on Elm Street was my first big love. I'll say that one.
What's your favorite Kristen Stewart film?
Oh my God. I feel so bad. I told her this; I don't watch a lot of her movies. Actually, I saw the Joan Jett movie, that one was good.
Vampire or werewolf?
I always wanted to be a vampire, but the older I get, the more I want to be a werewolf, so it's really a struggle. Uh, vampire, screw it.
What's your weirdest habit?
My weirdest habit. My wife can tell you this better than I can, I'm sure. Oh, I leave every door open. Everyone says it looks like a poltergeist is here. It's like, "No, Katy was here."
What is your Sun, Moon, and rising?
I am Aquarius sun and Taurus Moon and rising.
When you're at the movie theater, what's your go-to snack?
Popcorn.
What is the best piece of advice you've ever received?
Don't be afraid to fail.
The Mandalorian Season 3 is now streaming on Disney+. You can sign up here.