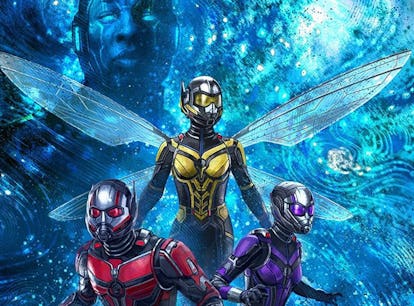 The New Ant-Man 3 Trailer Brings Scott's Story Full Circle
BRB, crying over Paul Rudd.
Marvel Studios
Before the Marvel Cinematic Universe's extended 20-plus film Infinity Saga, most respectable superhero films came in trilogies. Production studios did three at a time, switching actors or ending their runs. Marvel has attempted to stick to that model for the stand-alone superhero adventures within the larger framework; however, some characters who didn't arrive until Phase 2, like Ant-Man, only got two installments before Endgame. That trilogy will close with Phase 5 and Ant-Man and the Wasp: Quantumania.
Unlike Captain America, Iron Man, or Thor, Ant-Man never quite had the heft of his Avengers friends. The irony was that he and Wasp were part of the Avengers' initial lineup in the comics. (Hawkeye and Black Widow take up their roles in the movie version.) But Marvel would never leave its incredible shrinking friend behind, and the first two Ant-Man films brought much-needed comic relief to the sometimes too-serious franchise. As one of the few couples in the MCU, Ant-Man and Wasp have great bickering chemistry, and of course, there's fast-talking Luis, whose recaps of Avengers' exploits could be its own Disney+ series.
But for the third and last outing, Ant-Man's story will turn serious, as it introduces one of Marvel's greatest villains of all time. Let's run down everything we know about the next small-sized outing that's sure to be larger than life.
The first two Ant-Man films are streaming on Disney+, along with most of the Infinity Saga.
This article was originally published on