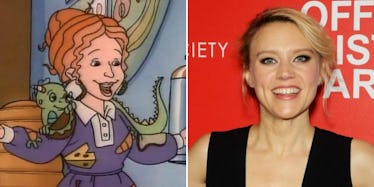 Kate McKinnon Will Ride On 'The Magic School Bus' Reboot As Ms. Frizzle
PBS/REX/Shutterstock
What did I tell you when "The Magic School Bus" reboot was revealed?!
I said Kate McKinnon would be perfect to walk in fellow comedian Lily Tomlin's shoes and take on the role of Ms. Frizzle.
Obviously, whoever is in charge of casting came across my article, so you're welcome, Kate...
SEAT BELTS, EVERYONE!
"Saturday Night Live" star Kate McKinnon will voice the iconic Walkerville Elementary School's third grade teacher in Netflix's reboot of the '90s favorite "The Magic School Bus"
I honestly cannot picture a more perfect person to take on the role.
The reboot will be called "Magic School Bus: Rides Again," which low-key makes it sound like Ms. Frizzle is out for vengeance.
After 20 years since the original "Magic School Bus" debuted on PBS, Netflix and Scholastic Media announced there would be a reboot in 2014, just a year after it acquired the rights to stream the original.
It became the most-watched kids program on the streaming service.
Netflix's Chief Content Officer Ted Sarandos said,
'Magic School Bus,' the old version, is remarkably popular on Netflix. It teaches science in a way that transcends generations. Parents trust it and kids love it.
He also promises that with updated computer-generated animation, it will get kids today even more excited.
The series is set to have a number of celebrity cameos, just like the original, and a lot of the cast will be returning as well.
Personally, I'm excited for a whole new generation of children to be inspired to study science and to be kind of disappointed with every field trip they take in real life.
Ah, I remember in 6th grade when my school, honestly, took us bowling... Very, very disappointing.
Hopefully, Betsy Devos won't do anything to harm this public school and their incredibly knowledgeable teacher, the Frizz.
Citations: Kate McKinnon Will Voice Ms. Frizzle in Netflix's 'Magic School Bus' Reboot (Huffington Post)