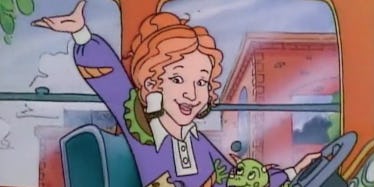 'The Magic School Bus' Reboot Is Coming And Here's Who Should Be Ms. Frizzle
PBS
Cruisin' on down Main Street, you're relaxed and feelin' good. Next thing that you know, you're seeing "MAGIC SCHOOL BUS" REBOOT IN THE NEIGHBORHOOD?!
Yes, it's true, after 22 long years since its original premiere in September 1994, "The Magic School Bus" is finally making its grand return.
The children's cartoon, based on the science book series by Joanna Cole and Bruce Degen, is the latest show that Netflix plans to reboot.
Fuckin' yes way, Arnold, you terrified child -- now, shrink down to size and enter your sick classmate like the rest of us!
But the times are a-changin'. On top of better animation, the bus itself is getting an upgrade to show off more modern technology, according to the New York Times.
At my old school, we never used iPads or Google Maps.
Stu Stone, who voiced Ralphie back in the '90s, is now a producer on the show and promises a lot of celebrity cameros through the show, just like old times.
He told TMZ,
 There are tons of cameos planned. I know that there are big stars who want to be involved in this. And there's a whole generation of people who grew up on this series that want to be a part of it now that it's back.
Still the big question remains...
No, not that. We know what that is...
Just WHO will play the beloved Ms. Frizzle?!
Comedian and actress Lily Tomlin was the original voice of Ms. Valerie Frizzle so it would make a lot of sense to ask her to come back and reprise her role.
Especially when you consider that she already works for a Netflix show "Grace & Frankie," which earned her an Emmy nomination in 2015 and 2016.
Obviously, Adams is a pretty solid choice. Not only does she already capture the red hair, but her work on "Enchanted" has basically lined her up for this job.
We already believe she's a princess -- we would totally buy her as a science teacher with a school bus that can turn kids into eggs, which then get fertilized with fish spermies.
Janelle Monáe
The singer is finally taking her talents into acting, and voiceover work would be a natural progression for her. Plus, she has the eccentric fashion down.
Not to mention, the eyes will help in the classroom -- teachers have to see everything.
This is spot-on casting if there ever was one, am I right? I should do this professionally.
I always felt like Kudrow would be perfect to play the free spirited Ms. Frizzle while maintaining an uncanny ability to know everything there is to know about the world.
Ali Wong
I mean, she has the glasses already.
The comedian wouldn't be afraid to tell Arnold to sit down, shut up and seatbelts, everyone.
Kate McKinnon and Lily Tomlin have a lot in common. They both appeared on "SNL," they both have iconic characters, and they both are no-nonsense funny ladies.
Plus, McKinnon appeared as the brainy engineer in "Ghostbusters" so she already knows how to build a lot of things, right?
Citations: Buckle Up, "The Magic School Bus" Is Coming Back (Cosmopolitan)