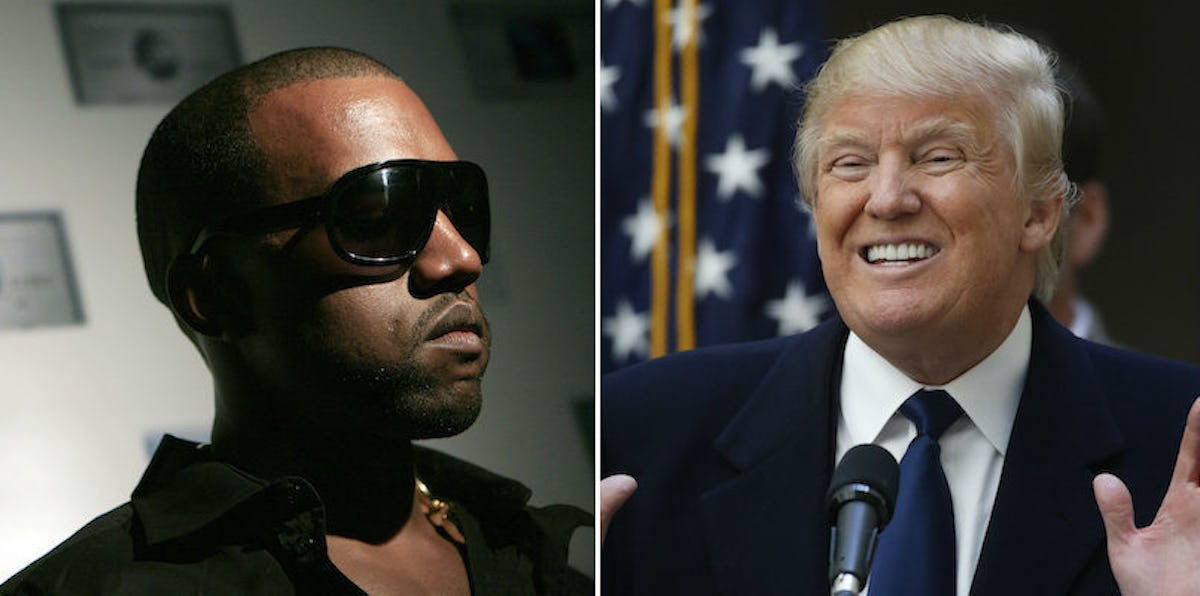 You Can Now Send Kanye West And Donald Trump Bags Of Gummy D*cks
Reuters/Jim Bourg/ERIC THAYER
If you ever wanted to send two massive bags of dicks a bunch of bags of dicks, now is your chance.
Donald Trump and Kanye West are just sentient flesh bags full of self-worth and general assh*le-yness, aka they're giant d-bags. They're the exact dictionary definition of the term.
I'm not even talking about their policies or portfolios of work. I'm just talking about them as people. I LOVE Kanye's music. The Life of Pablo is a masterpiece surpassed only by 808s & Heartbreak and the literal Sistine Chapel, but would I want to take a long car ride with him? No effing way. Dude seems like the biggest d-bag.
(Trump, on the other hand, has zero redeeming qualities. Stepping in dog crap is a more positive experience than anything to do with Donald Trump because at least stepping in dog crap can fertilize soil.)
If you wanted to give either of these two a piece of your mind, you now can, thanks to the commerce geniuses at SHIP/A/BAG/OF/DICKS.
Historically, SABOD offered clients the ability to anonymously send bags of dick-shaped gummies to people they hated -- or secretly probably loved?
Seeing the success of its low-scale dick hate, the website decided to up the ante last April and offered customers the ability to send boxes of gummy hate to two people the world can agree are terrible individuals: Kanye West and Justin Bieber.
A total of more than 5,000 bags were apparently sent to Yeezy and Biebs, prompting SABOD to bring back the gimmick with a contest this time. This year, Justin was mercifully removed from the equation, and Kanye is up against Donald Trump to see who receives more bags of dicks.
Apparently, there was some science that went into picking who competed for the title. The website reads,
As the One Year Anniversary of both Shipabagofdicks.com and such a momentous event approaches, we decided to bring back our 'Buy One Give One' promotion. But who would covet this year's glorious title? Who is most deserving to eat a Bag Of Dicks in 2016?? To answer this question, again we called upon the good people of the Internet to vote (or die). In our March Madness-like bracket which we emailed to our customers and posted online, we started with a 'Sweet 16' and there were a number of honorable mentions... Josh Duggar. Bill Cosby. Tom Brady. Jared Fogle. Nicki Minaj. Kim Davis. Drake's dance moves. Every Kardashian/Jenner. But lo and behold, after over 15,000 votes were cast, Kanye West and Donald Trump emerged victorious and will be facing each other for the coveted title!!
It was then pointed out how close a match it was to get to these final two contestants. The website says,
In the Final Four, Justin Bieber was bested by Trump (does that mean Bieber's PR Team comeback is actually working?), and Nickelback, the bracket cinderella story, fell to Kanye.
Let your voice be heard! Buy a bag of dicks for one of your friends and during checkout put in promo code KANYE or TRUMP to vote!