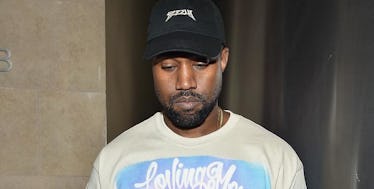 You Need To See This Video Of 12-Year-Old Kanye Freestyling
Getty Images
Whether it's the Twitter rants, the backstage meltdowns or the lyrical insults, it seems as though Kanye West is doing everything in his power to get people to dislike him.
And, as far as I'm concerned, it's working. In his personal life, Kanye kind of seems like a jerk. But I'm willing to let that slide for Young Kanye, who is featured in this 1990 video, and whom I love.
Young Kanye, as seen in this clip, is a bright 12-year-old boy with a passion (and talent) for music. Looking directly into the camera, he fearlessly performs a short rap, improvising the lyrics along the way. Though it's difficult to hear the song clearly, it's quite obvious that little 'Ye knows exactly what he's doing — and while that confidence is full-blown cockiness today, in a pre-teen, the ambition and confidence is totally inspiring.
Watch the clip below.
Citations: Here's Video of a 12-Year-Old Kanye West Dropping a Hot Freestyle (Complex)