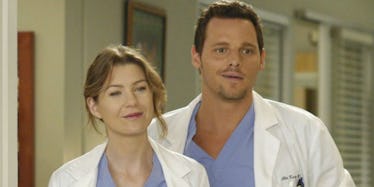 Alex Gets Real About Having A Shot At Love With Meredith On 'Grey's Anatomy'
ABC
First of all, if you're still watching "Grey's Anatomy" after 13 seasons, I am extremely impressed.
Second of all, your dedication and commitment may soon pay off in a big way if you've been waiting 13 years to see Alex Karev and Meredith Grey (Ellen Pompeo) get together.
I don't want to get anyone's hopes too high. This is still "Grey's Anatomy," meaning pretty much anything can happen.
But the actor who plays Alex — aka 46-year-old Justin Chambers — said something that sounds pretty darn hopeful to Alex and Meredith shippers in a recent Entertainment Tonight interview from PaleyFest.
When asked whether the fan-favorite couple will finally get shot at officially becoming #Merlex, Chambers responded,
I think anything is possible. I think friends can become lovers like that, that's possible too.
YES! Yes, that is the exactly the kind of answer I want to hear. Thank you, Alex!
But then, he went on to say,
I'm very comfortable with them being platonic -- like brother and sister, and friends. I think that suits them better.
No, that is less of the answer I want to hear.
Good thing he went on even further to say,
But hey, who knows? Nobody knows how things go, you know? I was friends with my wife before we started dating.
OK, OK, that's better! Friends first is a very solid way to start a relationship!
Unfortunately, he went on still further to say,
They have been friends a long time though. Alex and [Meredith] have come up together and I don't know, [it'd be] a little weird, but anything is possible.
So, ignoring all that dumb brother and sister stuff he said, it at least sounds like it could be a very real possibility that the great ship Merlex will finally leave the dock!
Apparently (unfortunately), Chambers is actually rooting for his character and Jo Wilson (Camilla Luddington) to get back together.
Chambers said,
I'm excited to see what happens with him and Jolex. I think they really love each other. I know they have a lot of obstacles to go through, but it will be interesting to see what conflicts, fires they can put out. Merlex and then Jolex, we'll see what happens.
OK, whatever Alex. I'll just keep Merlex as endgame in my heart.
Citations: EXCLUSIVE: 'Grey's Anatomy' Star Justin Chambers on a Meredith-Alex Romance: 'Anything Is Possible' (Entertainment Tonight)