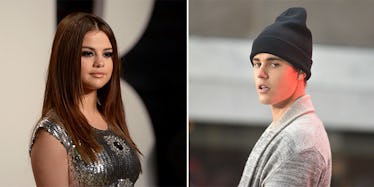 This Is The Selena Gomez Lookalike Justin Bieber's Been Hanging Out With
REX/Shutterstock
Missing someone, are we, Justin Bieber?
By the looks of these photos, Bieber is hanging out with a girl who looks an awful lot like former flame Selena Gomez.
Her name is Alexandra Rodriguez. She's a 24-year-old model from Venezuela.
The pair was spotted chilling on a boat in Miami on Tuesday.
Biebs was sporting a punchy Pharrell hat, and looked mighty uncomfortable playing daddy to a little kid.
Things got a bit handsy.
Earlier in the day, Rodriguez was spotted watching Bieber wakeboard as she sat on a yacht in a sailor hat (as one does).
Not much is known about the couple's relationship.
But here are some photos of Alexandra looking like Selena:
That last one's Selena. Caught you, didn't we?
Only the other day, Justin was rumored to be getting very close to Kourtney Kardashian. The 37-year-old was celebrating the Fourth of July with her three kids, while staying at The Setai hotel.
But a source told People magazine that she hung out with the 22-year-old singer quite a few times over the weekend.
Hmm.