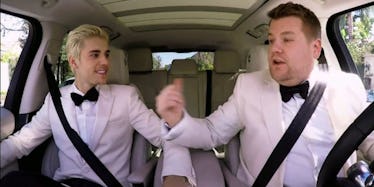 Justin Bieber And James Corden Wear Matching Suits And Sing 'Uptown Funk'
Things I never knew I needed: Justin Bieber and James Corden in matching white suits and bowties yelling along to "Uptown Funk."
The duo has already done two "Carpool Karaokes," including this one back in November, and now they're back again for the Grammy Awards.
It's pretty funny — the Biebz rubbing lotion into Corden's face is definitely a pleasure to witness. And now that they're on their third karaoke, they're total bros finishing each other's sentences.
James Corden joked after the video aired on the red carpet,
[Bieber] is my go-to for every facet of my life.
But can we talk about J Biebz's facial hair? Those terrible wisps of upper lip hair are going to be haunting my dreams for days.
Even the snazzy white suit and a sing-a-long with a charming British comedian couldn't make up for that, unfortunately.
To make this night even more enjoyable for you, we have the official list of winners here and will keep it updated throughout the night. We're also live-tweeting the event on @EliteDaily and providing our thoughts on Snapchat (elitedailysnap), so be sure to follow along.