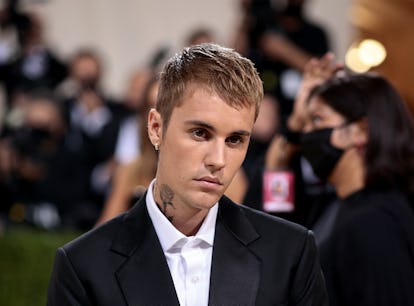 Justin Bieber Posted An IG Update Post-Partial Facial Paralysis
The singer announced he'd been diagnosed with Ramsay Hunt syndrome in June 2022.
Justin Bieber shared a hopeful update about his health. On March 15, the singer showed how he's seemingly recovering from Ramsay Hunt syndrome, a condition he announced he'd been diagnosed with in June 2022, via Instagram. Shortly after his diagnosis, Bieber took a brief hiatus and cancelled his Justice world tour in September of that same year to "prioritize" his health. With this video update, it appears taking a step back from the music scene has been beneficial for him.
In an Instagram Story, Bieber showed that he's regained mobility in his face. "Wait for it…" he captioned the video, which sees him moving his eyes and brows before flashing a wide smile.
This movement is heartwarming to see, as he revealed in his initial diagnosis video that the right side of his face was paralyzed. According to Mayo Clinic, Ramsay Hunt syndrome is a rare virus that affects nerves in the face and ear. The site notes that immediate treatment could reduce the risk of complications, including "permanent facial muscle weakness and deafness."
As for Bieber's symptoms in June, he could only smile and blink on the left side of his face. "As you can see, this eye is not blinking. I can't smile on this side of my face. This nostril will not move," Bieber said at the time, pointing to his partial paralysis.
Bieber continued in the video, adding that he would take time to "rest and relax" so he could return to his then Justice tour. Several weeks after sharing his diagnosis, the singer resumed his slate of shows in late July, performing in Denmark, Sweden, Finland, Hungary, and Brazil until September. That same month, he announced he cancelled the remaining dates of the tour on Instagram.
"[Performing] took a real toll on me," he wrote at the time, nodding to his then appearance at the Rock In Rio festival. "After getting off stage, the exhaustion overtook me and I realized that I need to make my health the priority right now. So I'm going to take a break from touring for the time being. I'm going to be ok, but I need time to rest and get better."
This article was originally published on