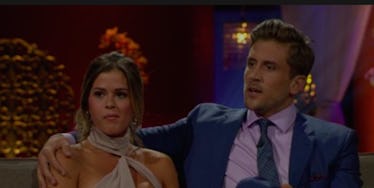 Jordan Rodgers Hilariously Live-Tweets JoJo Napping On Their Road Trip
ABC
JoJo Fletcher and Jordan Rodgers are making big moves as a couple.
"The Bachelorette" lovebirds had to keep their engagement on the DL for months until the season finale aired.
Right after the episode, JoJo and Jordan made their first public appearance together and they looked more in love than ever.
Shortly after, the two went on an awesome vacation in Malibu, California. They are LIVIN' IT UP.
Just two peas in a pod. How precious.
Now "The Bachelorette" cuties are taking their relationship to the next level by moving to JoJo's hometown in Dallas, Texas.
Jordan and JoJo both documented their entire trip on Snapchat, and it looked like an exhausting journey. The couple set out on Wednesday morning to officially start their lives together. No looking back now.
"The Bachelorette" and her hubby are moving in together!
They left at 4:35 am to embark on a 10-hour road trip to Dallas. I hope they peed before this.
It looks like things were going well...
...until JoJo fell asleep and Jordan decided to have some fun with her.
Let the #JoJosleepswatch2016 games begin!
Jordan Rodgers decided to live-tweet his drive with a napping JoJo.
BRO, KEEP YOUR EYES ON THE ROAD!
It's OK, Jordan assured us he only texted during the stops. Silly Jordan! He fooled me.
Don't worry tweeps, only updating when we are stopped. No texting or dub smashing and driving over here #JoJosleepswatch2016 #mypoopwatch — Jordan Rodgers (@JRodgers11) August 10, 2016
JoJo did eventually wake up (I was nervous!) and tweeted about her man.
Cutest couple ever? I think so.
Citations: JoJo Fletcher Jordan Rodgers Moving (PEOPLE)