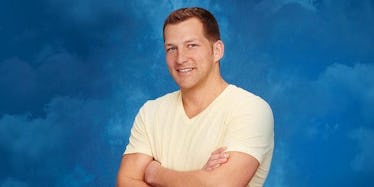 JoJo Fletcher's Ex Nick Is Joining 'Bachelor In Paradise' And Here's What We Know
ABC
The new Bachelor in Paradise cast is officially here, but along with some of the big, scene-stealing, drama-starting names that most fans were expecting (here's looking at you Corinne and Taylor), comes the more vanilla past contestants that you may have forgotten about.
Admittedly, that sounds harsh, but in the world of The Bachelor, it's an unspoken rule that you either yell or get yelled over... or show up in a dolphin suit, or spray whipped cream on your boobs, or gnaw on a piece of meat constantly... you get the idea.
And since he did none of these things on JoJo Fletcher's season of The Bachelorette, you might have forgotten about Nick Benvenutti — but you'll be reintroduced to him soon enough, because he's part of the new Bachelor in Paradise cast.
As a refresher, probably the most memorable thing Nick did during his three weeks on The Bachelorette was showing up on the first day in a Santa suit, earning him his nickname St. Nick. He also pulled JoJo onto his lap as part of the gag, which came off as pretty creepy to me, but she still kept him around for a little bit.
No word on if Nick is going to be bringing the Santa suit with him to Paradise (it'd probably be too hot, right?), but it's clear he will have no problem flaunting his body on the beach. I think these photos of him in a denim speedo that he posted on Memorial Day are a pretty clear indication of that.
And guess what? He's also already got some buds that are going to be on this season of Paradise with him.
Nick has been hanging out in Fort Lauderdale with fellow contestants Derek Peth and Robby Hayes, who he will be joining in the new season of Paradise. Hopefully their friendship makes for some good TV.
Season 4 of Bachelor in Paradise will premiere on Tuesday, August 8.