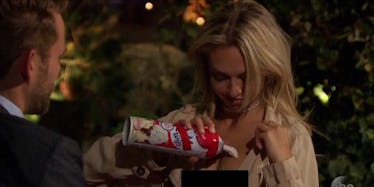 Corinne Admits Whipped Cream On Her Boobs Was 'Too Sexy' For 'The Bachelor'
ABC
On Wednesday, everyone's favorite "Bachelor" contestant, Corinne Olympios, joined the set of "The Ellen DeGeneres Show" to talk about Nick Viall's season so far, as well as some of her, well, more interesting moments on the show.
For starters, Ellen asked Corinne if the woman we see every Monday night on "The Bachelor" is in fact the "real" Corinne, to which the 25-year-old responded,
That is the real me. It is definitely a real side of me, but there are many other sides to me. I'm an older sister. I run a business… I work out every day… I think you'll see a lot more of Corinne as the season goes on.
In actuality, Corinne spent most of her interview with Ellen playing defense, and you can check out the full segment in the clip below.
Ellen's talk with Corinne is filled with good soundbites, but, as you can see in the video at the top of the page, it was Corinne's chat with "The Ellen Staff" that really opened up the floodgates!
Speaking about her time on "The Bachelor" up to this point, Corinne told two show producers,
I was getting a lot of attention from Nick. I was kind of, like, doing me and the girls were kind of getting really mad and started to ignore me, I was like, 'What am I doing?' Because I didn't do anything to anyone. I had my time, you had your time, what's the problem? He's going to pick who he wants to pick. If you're being yourself in your time, you're being yourself in your time, just like I am. I didn't understand why everyone was getting all worried and upset about me.
I mean, real talk, the more interviews Corinne Olympios does, the more I like her and 100 percent agree with her assertions.
During her behind-the-scenes interview, Corinne also opened up about two now infamous scenes from season 21 of "The Bachelor."
Yes, of course I'm talking about the bouncy castle moment and the whipped-cream-on-the-boobs event.
Speaking on those scenes, Corinne said,
The bounce house, it was just good ol' fun. We were just bouncing around in the bounce house and making out. I mean, everybody makes out with Nick. It was supposed to be something silly, sexy, funny for me and Nick to enjoy. I will admit, watching it back, it was a little not what I wanted it… not the way I wanted it to go really. But you know what? I'm only human, it happens. I tried to do something cute and funny and it turned into a little bit too sexy of a thing.
Preach, Corinne! Preach!
Corinne also explained in detail what Raquel's "cheese pasta" really is:
... a good shell or elbow-shaped noodle... shredded cheese -- I like mozzarella.
This woman is the fount of all knowledge.
Citations: The Bachelor's Corinne Olympios Defends Her Naps, Whipped Cream Bikini and Bounce House Makeout (E! News)