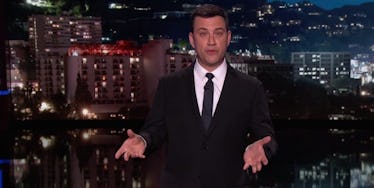 Jimmy Kimmel Chokes Up While Discussing Cecil The Lion's Tragic Death (Video)
Since news broke of dentist Walter Palmer hunting and beheading a beloved Zimbabwean lion named Cecil, people took to various social media platforms to share their feelings of heartbreak and disgust over the incident.
Jimmy Kimmel was no exception. The late-night host devoted close to five minutes of airtime on Tuesday night to condemn Palmer's behavior.
Although Kimmel is usually not the type to pull punches, at one point, he asks if it is Palmer's impotence driving his need to kill animals.
He said,
If that's the case, they have a pill for that. It works great. Just stay home and swallow it and you save yourself a lifetime of being the most hated man in America...
The host does not stop short at his signature sharp wit when addressing the tragedy.
Kimmel gets choked up toward the end of the segment as he invites fans to visit the website for the Wildlife Conservation Research Unit in an effort to "have some good come out of this disgusting tragedy."
Citations: