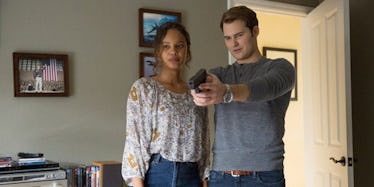 Jess From '13 Reasons Why' Reveals How She Wants To See Bryce Punished In Season 2
Netflix
Now that we are OFFICIALLY getting a second season of "13 Reasons Why," the cast is weighing in on where they want to see the story going.
Miles Heizer (who plays Alex Standall) recently said he'd like to explore what would happen if Alex's suicide attempt failed, and now Alisha Boe (Jessica Davis) is letting us know what she wants to see happen.
One of the big cliffhangers at the end of Season 1 is what's going to happen to Bryce, the popular jock who we find out raped both Hannah Baker and Jess. Alisha told us that in Season 2, she wants to see Bryce get prosecuted and face some jail time.
Additionally, she'd like to see Jess be actively involved in the prosecution and opening up about what Bryce did to her.
In an interview with Elite Daily, Alisha Boe revealed,
I hope he gets prosecuted and I would love to see him in jail, juvie of some sort. I would like, beyond Bryce, for Jessica to be able to have the power to prosecute him, to advocate for other women and other girls in the high school to speak up about it hope she becomes more public with it in order to get justice. I just want to see justice for Hannah and Jessica.
A legal process actually does sound like a natural and interesting course for Season 2 to take, especially given how much rape cases are on the public mind following the horrifying Brock Turner case last year.
Although, thankfully, it will most likely be easier to get Bryce to serve a just amount of time in jail since Clay recorded his confession to Hannah's rape.
"13 Reasons Why" EP Joy Gorman also spoke about an aspect of Jess's rape that confused some viewers: Why didn't Hannah burst out of that closet and stop it?
Joy highlights the fact Hannah had been so beaten down at that point that she felt totally powerless.
You know, Hannah, by the time she is that position, has been so depleted she's hurting so deeply, she's already lost her voice and her agency. She's already been slut shamed. She's already become a voice that no one respects and that's part of the great tragedy of that story line is that Hannah did not have the strength in that moment to stand up and so many people don't.
We'll have to wait to see what becomes of Jess in the next season of "13 Reasons Why," but for now, the fans have their theories about what's to come.
Reporting based on an interview by Stephanie Ironson.