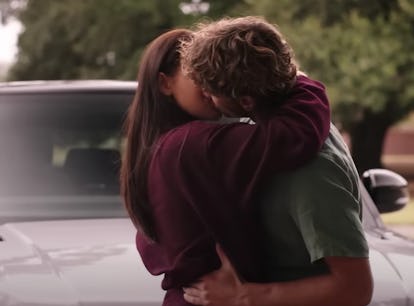 TikTok's Obsessed With This Steamy Jeremiah-Belly Moment From TSITP
That 👏 Hand 👏 Placement 👏
Prime Video
Spoiler alert: This post contains spoilers from The Summer I Turned Pretty Season 2, Episode 7. This season, the Jeremiah girlies are definitely winning. Conrad Fisher might have been Belly Conklin's first love, but the growing chemistry between her and Jeremiah Fisher in The Summer I Turned Pretty Season 2 is hard to ignore. On TikTok, fans of the show have been gushing over the duo's romantic connection — and there's one Jeremiah-Belly moment in particular they can't stop swooning over.
In Episode 7, Belly and Jeremiah finally kissed after days of building up major sexual tension. ICYMI, the scene went something like this: Belly asked Jeremiah if he'd ever give her a "second chance," he told her that she and Conrad have unfinished business, Belly insisted she was done romanticizing Conrad and ready for something "real"... and boom, they kissed — and it wasn't exactly a tame peck. Mid-kiss, Jeremiah's hands went to Belly's neck and waist, prompting a looot of emotions from fans of the show. "the hand on the waist & neck was wildddd," one fan wrote on TikTok. "mans was going IN," another commented.
You can watch the full makeout here:
On TikTok, TSITP fans shared their reactions to the steamy moment.
Some questioned if the "neck hold" was actually part of the original script, or if Gavin Casalegno (who plays Jeremiah) improvised.
In an Aug. 11 interview with EW, Casalegno explained his reaction to the kiss scene during the cast's table read. "I think I literally said, 'Mic drop,'" he recalled. "I was like, 'Oh, snap! Good luck with that. That's going to be fun.' I knew on paper it was going to be just a wonderful scene, and then doing it was something completely different. It was fun."
Whether the hand placement was pre-planned or not, it definitely made an impression on fans.
Some TikTokers noticed that's how the kiss was written in Jenny Han's book It's Not Summer Without You, too.
In the book, the kiss is actually described like this: "...he leaned over and pulled me toward him—like by gravitational force. He kissed me, hard... He kissed like he was drowning and I was air. It was passionate, and desperate, and like nothing I had ever experienced before."
Seems like passion was required, but the neck hold was optional.