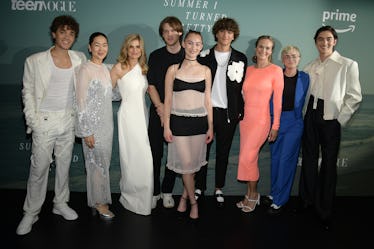 The TSITP Cast Has Some Harsh Dating Advice For Belly
She def needs to hear some of this.
Variety/Variety/Getty Images
Additional reporting by Rachel Chapman and Hannah Kerns.
If anyone needs some dating tips, it's our girl Belly. In The Summer I Turned Pretty, the indecisive teenager is constantly going back and forth between the two brothers who love her — should she ignore her deep connection with Conrad for a fun-filled life with the optimistic Jeremiah, or is the drama Conrad brings into her life worth it for their undeniable love?
In Season 2, Belly's love life gets messier than ever, and the people most invested in Belly's journey have some feedback they wish they could tell her. Elite Daily caught up with the cast of The Summer I Turned Pretty to find out what dating advice they'd give Belly if they could.
Sean Kaufman (Steven)
Sean Kaufman, who plays her older brother Steven, has no sympathy for her love triangle. "If this was real life, I'd tell Belly to hurry the f*ck up and choose," Kaufman bluntly says. "I'm not a fan of love triangles. If she was my real sister, I'd be like, 'You're hurting more people this way. You don't want to hurt anybody, but you are.' ... She loves those two boys so much, and all she does is hurt them and they hurt her and they hurt each other in a triangle; a hurt triangle. It's always a love triangle. It's never called a hurt triangle. But they keep hurting each other. And I'm like, you got to choose one, man."
Rain Spencer (Taylor)
But Kaufman's harsh words don't sit well with Rain Spencer, who plays Belly's bestie and Steven's love interest Taylor. "You can't just be like, 'Choose one,'" Spencer shoots back. "There's nothing you can say to a teenage girl, to Belly. I mean, sure, maybe you could plant a little seed, but you have to go through everything that you go through. You have to make the mistakes to learn from them ... I don't even know. I'd just be like, 'Listen. You're doing great. This is hard. And I think that you should do some self-love practices and focus on making the relationship with yourself the priority, and then have your pick.'"
Jackie Chung (Laurel)
While Kaufman and Spencer butt heads over what Belly needs to hear, the rest of the TSITP cast had some more straightforward advice for Belly. Naturally, Jackie Chung, who plays Belly's mother Laurel, had some sage words for her TV daughter. "My dating advice is [you] don't need to get caught up in these two," Chung says. "There are gonna be many, many boys, so just have fun. Trust your heart, and don't think this is the end of the line."
Rachel Blanchard (Susannah)
In true Susannah form, Rachel Blanchard summed up what Belly should do in just three words: "Follow her heart."
Kyra Sedgwick (Julia)
But Kyra Sedgwick, who joined Season 2 as Susannah's estranged sister Julia, has another three words for Belly: "Play the field."
Belly would probably benefit from hearing some of these tough truths, but unfortunately, she's still trapped in her love triangle for now.