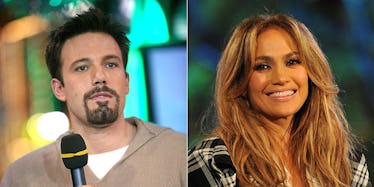 Jennifer Lopez Revealed What She Thinks About Ben Affleck's Back Tattoo
Getty Images
If you haven't heard, Ben Affleck recently got an enormous tattoo of a rainbow phoenix. It literally covers his entire back, and it's trippy AF.
He reportedly got it around the time his 10-year marriage with Jennifer Garner was ending.
I guess it was his way to sort of be like, "I don't need a wife, I have this giant phoenix rising from the ashes! This mythological creature is the only companion I need!"
Yeah, I think that's what he was thinking.
Jennifer Garner actually commented on her ex-husband's tattoo in an interview with Vanity Fair.
She told the magazine,
You know what we would say in my hometown about that? 'Bless his heart.'
She added,
A phoenix rising from the ashes. Am I the ashes in this scenario? I take umbrage. I refuse to be the ashes.
You tell him, Jennifer. You ain't no ashes, girlfriend.
Another one of Ben's ex-lovers has an opinion on the tat as well. Remember when Ben and Jennifer Lopez were together? Good times.
While playing a game called Plead the Fifth on "Watch What Happens: Live," Lopez was asked to give her honest opinion about Ben's new back tattoo.
JLo had no problem speaking her mind.
She told show host Andy Cohen,
It's awful! I mean, I would tell him that. I would tell him, like, what are you doing? It has too many colors. His tattoos always had too many colors... They shouldn't be so colorful. You know what I mean? They should be like, cooler.
You can listen to JLo's response in the clip below.
YOU GOT THAT, BEN? BE COOLER NEXT TIME, BRO.
Eh, now that I think about it, maybe there shouldn't be a "next time." I think that rainbow phoenix has enough ink to last a lifetime.
Citations: Neither Jennifer Approves of Ben Affleck's Midlife Crisis Back Tattoo (ELLE)