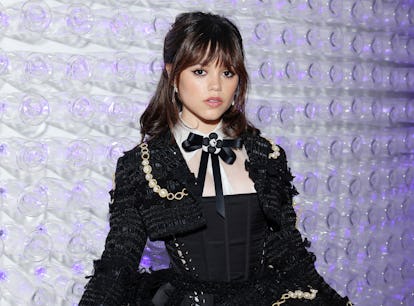 Jenna Ortega Tears Up Over How Toxic Social Media Can Be
"It influences bandwagon mentality."
Cindy Ord/MG23/Getty Images Entertainment/Getty Images
In the last few years, many celebrities have opened up about their love-hate relationship with social media. Having a platform has its perks, as it allows public figures to interact with their fans, tease news about their career, and show off a little personality. However, that accessibility can be taxing, and the pressure to be seen as perfect becomes too much for celebrities to handle. Recently, Jenna Ortega emotionally talked about how toxic social media can be, and it's heartbreaking to see.
On June 7, Ortega appeared on Variety's Actor On Actor segment with Elle Fanning. There, the two actors bonded over their journey in learning how to be present online. Ortega, whose been an actor since she was nine, revealed her sour relationship with social media stemmed back to her Disney days. At the time, she was taught in media training that having a large follower count could open doors to certain roles.
"You could go into an audition or meeting, and [they would ask] 'How many followers do you have?'" Ortega said, adding that she dealt with the pressures of having a "large enough" following even after her break-through success in Netflix's Wednesday. "Even after shooting Wednesday, when I was auditioning, they would come to my team and say: 'We like her, but we just don't know if she has enough of a name.'"
Ortega then expressed that social media "influences bandwagon mentality," and that harmful mindset has caused her to grow weary of being vocal on her platform. This hesitancy might be a reference to the backlash she received concerning her Wednesday role earlier this year. In March, the actor shared she had issues with the show's script, as she believed certain creative choices didn't fully honor her character's personality.
This resulted in her changing some of Wednesday's dialogue on set, which she believed could've been seen as "unprofessional" from the show's writers' point of view. Shortly after this revelation, Steven DeKnight — who famously produced 2010's Spartacus — called her behavior "entitled" and "toxic" on the Armchair Expert with Dax Shepard podcast. He later clarified his remarks, stating his comments were about her "breaking the trust" she possibly built with Wednesday's script writers and that "creative differences" should stay on set.
In her Variety interview, Ortega said that she's worried about becoming more vulnerable on social media, especially because she has a dry humor that could be misinterpreted. She then became visibly emotional, her voice cracking as she expressed how difficult it is to balance being in the spotlight.
"The more I've been exposed to the world, people prey on that and take advantage of that. They see your vulnerability and twist it in a way that you don't always expect," she said, wiping away her tears. "It's such a hard thing to balance. Because how do you be honest without jeopardizing your own health and safety? It's very easy to feel almost out of control."
Ortega quickly apologized for her tearful reaction, to which Fanning gave her some reassurance. Ortega eventually wrapped up the conversation by stating she wants to be authentic to her audience; however, it becomes tough when the industry wants her to sell a certain image.
"It just feels gross. And I don't want to feel gross," she said. "I would rather people see me cry and do whatever than be something I'm not."